Description
Rulz Fitness - Free Open House RSVP is required in order to secure your spot!

Free Open House RSVP Required!! Limited Space!
Experience a free hour of Fitness at Rulz Fitness!
BELLYDANCE FITNESS
A sensual and feminine fusion of fitness and dance! This is a great work out! It will improve feminine health, stimulate blood circulation & digestion, increase joint fluidity, and boost self confidence.
ZUMBA:
Curvy Rhythms is a group workout class known as a dance fitness party. As such, let me officially say WELCOME to a new fun way to exercise! Created by Tekora - Curvy Rhythms to inspire people to get up and move. A little movement can make a big difference. People of all shapes, fitness levels, backgrounds, and ages come together to move to the rhythm of a variety of music. When you enter into Rulz Fitness Studio the positive energy and non-intimidating atmosphere will be the foundation for an amazing experience. Along with being a blast, it is also a calorie-burner.

YOGA:
Jiivana Yoga® is influenced by Vinyasa Hatha Yoga and created by Spiritual Essence Yoga & Wellness founder, Dana Smith. Jiivana is the Sanskrit word for LIFE, which is an acronym meaning Living Inspired and Fearless EVERYday. It is our belief that life is a beautiful gift given to us to be lived each and every day inspirationally and fearlessly.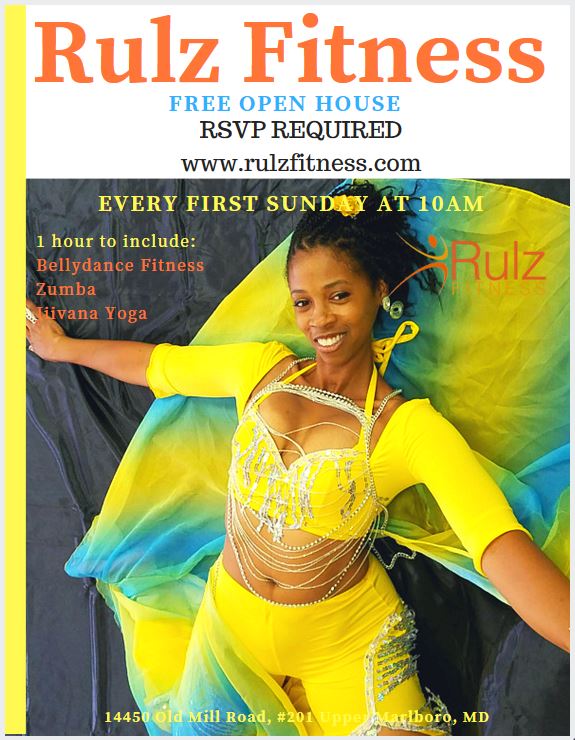 Rulz Fitness is located:
14450 Old Mill Road #201
Upper Marlboro, MD
The Rulz Fitness studio is in the first building on the right. Go up the outdoor stairs and hang a left, come in through the door on the end and the studio door will be in front of you. Look for the hip scarves hanging in the bay window :)