Sales Have Ended
Ticket sales have ended
RUF Mid-Atlantic Fall Conference registration is closed. If you think you're receiving this message in error, contact your campus minister.
Sales Have Ended
Ticket sales have ended
RUF Mid-Atlantic Fall Conference registration is closed. If you think you're receiving this message in error, contact your campus minister.
Description
Join us for another fantastic Fall Conference in beautiful Ligonier, PA!
Once again, we have a bunch of students from schools in PA, MD, WV, DE, NJ, and OH coming together to learn from a great teacher, worship a great God, enjoy a beautiful part of country, and make some wonderful friendships.
Topic: The King's Kingdom
Speaker: Rev. Shawn Slate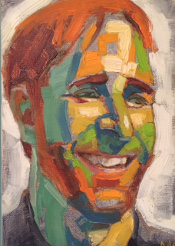 Shawn Slate was the Campus minister at the University of Virginia for 10 years and presently he serves as the Pastor at Redeemer Church in Knoxville, TN. He loves to run, paint, and ride his scooter.
Registration: (please read carefully)
The registration deadline this year is September 24 at 9.00 pm. Don't let it pass you by!
*Those wanting a t-shirt must register by September 18!

Everyone must register.
You register by selecting a ticket, and then you must purchase that ticket.
If you are in need of a scholarship, talk to your campus minister, and they will provide you with a scholarship code. Enter that code during your registration.
You may pay with a card or by check.
If you are paying by check, choose "Other Payment Options", then "Pay Offline." Complete your registration, then bring your payment with you to Fall Conference, and hand it in when you check in.
If you must pay by cash, talk to your campus minister.
T-shirts
You may buy a t-shirt during registration for $5.
After you select your registration ticket and answer the registration questions, you will be given the option of buying a shirt. Select your size and quantity, and check out.
*If you want to order a t-shirt you must register before Sept 18.
Those receiving a full scholarship cannot purchase a t-shirt. Eventbrite simply won't allow it. I suggest you ask a friend who's registering to buy one for you, and simply hand them $5.
Cancellation and Refunds
If you must cancel your registration, and you do so before Sept 21st, you will receive a refund. Cancellations after Sept 21st are not allowed, but another student may take your place.
Housing.
Housing is adequate, but sometimes chilly. The summer cabins are covered, but unheated. You will need to bring a warm sleeping bag or significant covers, as well as your pillow.
*A WARM house is available to gals at a slightly increased rate. Select the WARM Housing ticket.
Food.
The food at Ligonier is adequate, and we supplement it well with some pretty significant snacks. You may also bring your own snacks if you like.
If you have dietary restrictions or special needs, please make them known during your registration. Ligonier gladly accommodates vegetarian, vegan, and gluten free needs. However, you need to make these known during your registratation, and you will need to tell the staff during the meal times what your need is.
Rec.
Ligonier is a beautiful facility nestled in the woods. During your rather significant Saturday free time, you can play a gazillion sports on the lower fields or in the pavilion, go for a long hike, or eat some delicious ice cream with friends in sleepy Ligonier.
Dance:
Yes, there will be a dance party. Yes, it will be great.
What to Bring:
*Clothing. It can be warm during the days, and quite chilly at night. And you will want to be prepared for rain as well. So consider play, hike, worship, and dance party when choosing your attire.
*Sleeping. You need to bring a pillow, and a sleeping bag/and or sheets. If in the summer cabin, you need a REAL sleeping bag, or a few blankets. You've been warned.
*Bathing. All the necessities and a towel.
*Games, etc... There's a lot of free time on Sat, so indoor & outdoor games are welcome. That being said, Ligonier Camp has a ton of things to do: hiking, sports fields, soccer rink, basketball courts, table games, etc..
*Bible, notepad, pen.
*Snacks. We will provide snacks all weekend long. If you do bring snacks, please leave them in your car.
*Meds. If you have meds that need to be refrigerated, please tell your campus minister.
*Cash. You may need spending $$ for meals during travel. A little spending $$ might be wise. And see below
regarding the gift.
*All your devices. Warning: you're in the mountains outside a small town. Wifi is limited.

Gift
Each year we collect an offering during the Sunday Large Group time. This year's conference offering will be sent south to support the work of RUF in Mexico City!