Description
Live cage fights return to the UltraStar Amphitheater on Saturday, September 23rd with RUF MMA 22! Ringside Promotions and the UltraStar Multi-tainment Center bring you another exciting evening filled with great mixed martial arts fights from this spectacular open air venue surrounded by stunning views of the Sonoran Desert. At the UltraStar Amphitheater there is not a bad seat in the house, with all of the action broadcast live and larger than life onto a Jumbotron above the octagon. VIP tables and cageside seating are limited and selling fast however, so reserve your spot up close to the action now!
RUF MMA 22 brings you a fight card full of great matches showcasing many upcoming fighters hungry for the chance to prove themselves in the cage. You will not want to miss the main event, a rematch between Dan Charles and Tony Lopez, who is currently ranked #1 US West Pro Men's Heavyweight. If you didn't get to see their earlier fight, Charles held the upper hand the entire match then went down to a surprising head kick from Lopez. Charles is set for payback and wants to prove to Lopez that whole foot to the head thing was just a fluke, while Lopez is ready to show Charles that he has not just one but two feet and he's ready to kick him in the face with either one of them! Join us Saturday night on September 23rd to see the sensational conclusion when these two fighters re-enter the cage together!
---
FIGHT CARD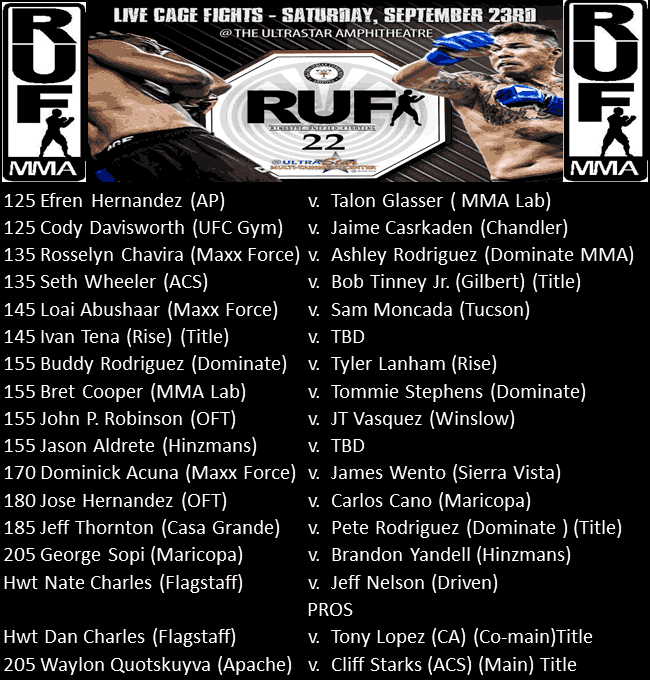 ---
All ages welcome! VIP table will seat up to 6 people, VIP hightop will seat up to 4 people.
Venue map not to perfect scale, intended for approximate seating location relative to the cage only.
Date and Time
Location
Refund Policy