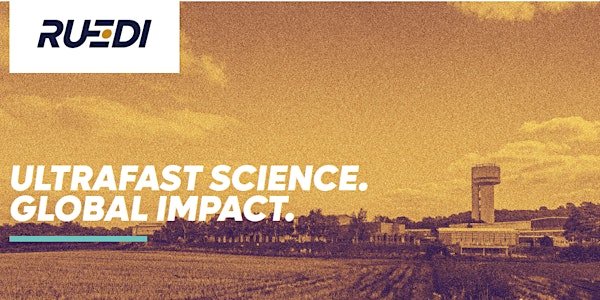 RUEDI: Ultrafast Energy Materials & Energy Storage Scientific Theme
Location
Hope Street Hotel
40 Hope Street
Liverpool
L1 9DA
United Kingdom
RUEDI National Facility: Energy Materials & Storage Scientific Theme, hosted by Dr B.Layla Mehdi (Note: This will be an 'in person' event)
About this event
A National Facility for Relativistic Ultrafast Electron Diffraction & Imaging (RUEDI)
Ultrafast Measurements Leading to Transformative Impacts in UK Science and Technology will permit the direct observation of atomic/electronic motions directing the very chemistry that must be controlled to make scientific advances in the key areas of personalised medicine, energy materials and systems, chemical phase changes, quantum materials and processes, and materials operating under extreme conditions.
The RUEDI facility will provide UK scientists in both academia and industry with unprecedented capabilities to investigate and understand molecular-scale dynamics in-vivo, in-situ and under operando conditions. As the facility can uniquely investigate dynamics on the fs time scale of making and breaking individual bonds in large complex systems, RUEDI can rapidly advance the UK as a world leader in new technologies for healthy ageing, energy storage and renewable energy conversion, nanophotonics, thermoelectrics, and structural materials for extreme conditions. In addition to the scientific applications of this advanced facility, the development, testing and application of the operando stages, sensors and detectors and the AI/ image analytics to accelerate discovery, will enhance the UKs education base and business competitiveness in a rapidly changing global research field.
This is the first in a series of Town Hall meetings organised across the UK to introduce the scientific community to MeV Ultrafast science.