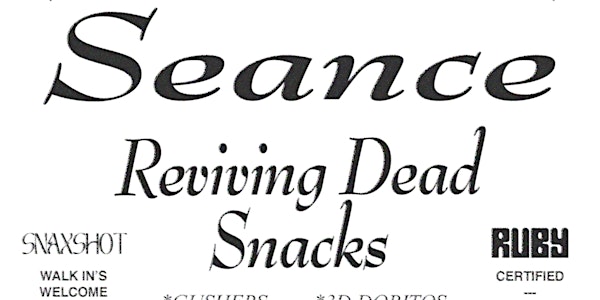 Ruby & Snaxshot Present A Seance: Reviving Dead Snacks
A snack seance in Chinatown, from the snax cult leader herself...
When and where
Location
Happy Medium 49 Market Street New York, NY 10002
About this event
They haunt the places of the dark, where there are were-wolves and goblins and "things that go bump in the night."
— W. M. Letts, The Living Age, July – September 1914
On August 19th we revive the spirits of the snacks long believed dead and gone, though never forgotten. There be candles. There be music. There be drinks. There be spirits of VARYING kinds. Won't you join us? For the first, and potentially last, seance of it's kind...
Ruby Hibiscus Water and Snaxshot welcome you to a Snack Seance, in partnership with Happy Medium and support from Harridan Vodka, Agua Magica, Alimentari Flaneur and DADA Daily.
Cocktails 7 - 8 pm (and after)
Seance to begin around 8 pm.
Secret societ film screening to begin thereafter.