Event Information
Location
Bitspace Makati (Brainsparks)
6/F PDCP Bank Centre, Rufino cor. Leviste St., Salcedo Village
Makati, NCR 1227
Description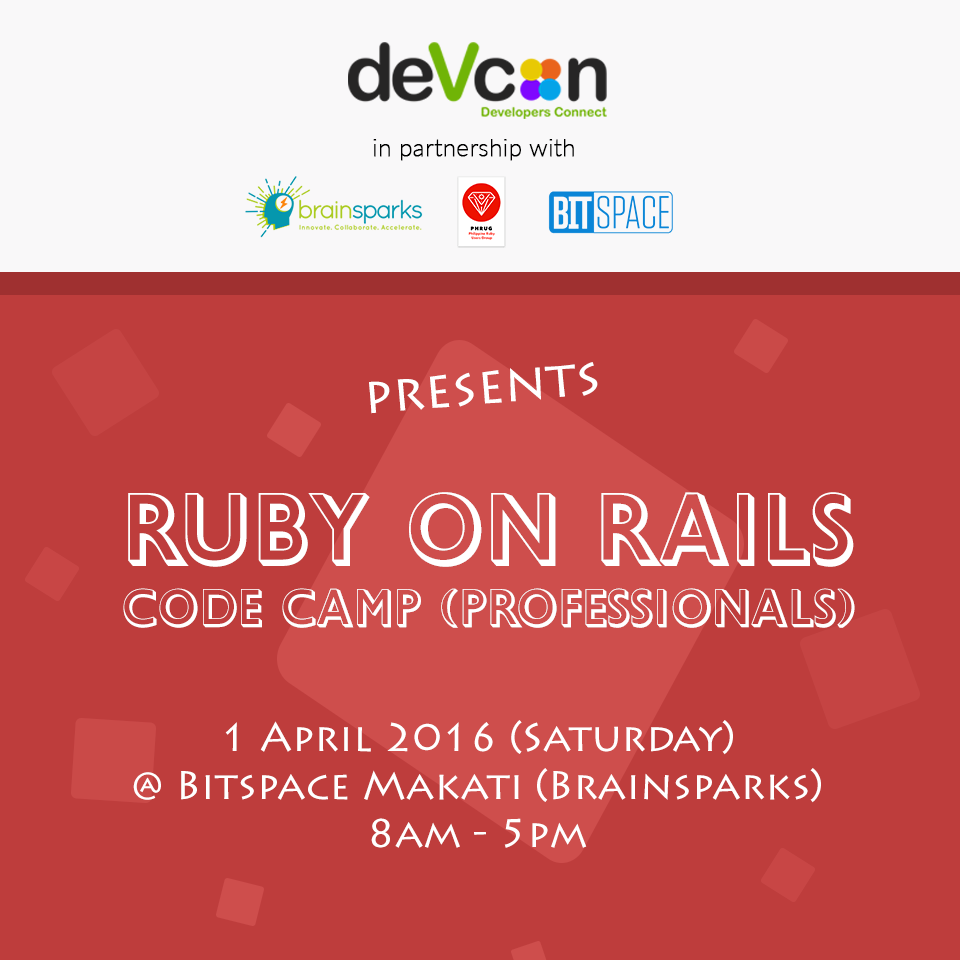 Ruby on Rails Code Camp (Professionals) is a whole day workshop in partnership with Ruby Users Group Philippines (PhRUG), Bitspace and Brainsparks that aims to enable professionals to learn basic Ruby on Rails (RoR) development.
Schedule
8:00 AM - 8:30 AM Registration (Registration closes at 9:00AM)
8:30 AM - 8:45 AM Intro to DevCon
8:45 AM - 9:00 AM Partner Talks: Bitspace
9:00 AM - 12:00 NN Workshop Proper
12:00 PM - 1:00 PM Lunch Break
1:00 PM – 4:00 PM Workshop Proper
4:00 PM – 5:00 PM Mini-hackathon
Rules
Attendee Requirements
Attendee must be already a professional (at least 2 years industry experience)
Basic to intermediate programming skill. Basic rails knowledge is a plus.
Bring your own laptop
Bring your own extension cords especially if you have multiple devices
Software Requirements:
Dress Code
No Rubber Sandals, Slip-ons/Slippers, shorts, revealing shorts, revealing tops/shirts
Certificates
While the DevCon team loves to conduct workshops that would help you learn new technologies as a community initiative, heads up! There will be no certificates provided for this camp.
Date and Time
Location
Bitspace Makati (Brainsparks)
6/F PDCP Bank Centre, Rufino cor. Leviste St., Salcedo Village
Makati, NCR 1227