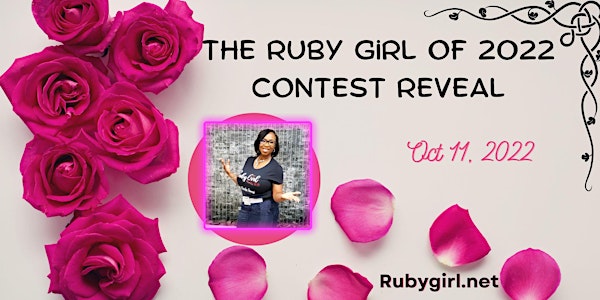 Ruby Girl of 2022 Contest Winner Reveal
Please reserve your space for the reveal of the Ruby Girl of 2022 contest winner!
About this event
On October 11, the winner of the Ruby Girl of 2022 contest will be revealed. This group of ladies have proven that they qualify to be Ruby Girls. A Ruby Girl is a woman who knows her worth and value. She is rare, virtuous and valuable. A Ruby Girl has reset her mindset about what she has been through. She is no longer a victim but a victor! She has conquered and overcame obstacles that would have broken others to pieces. She has a God given testimony that inspires other women to keep going. The winner of the contest will win a Ruby Girl travel/gym Bag filled with prizes. She will represent the brand of Ruby Girl for 12 months and be given a once-a-month allowance to lunch! They will be spotlighted every Thursday, Ruby Girl Day. Please join us for the reveal of the Ruby Girl of 2022. There will be games and prizes that the viewers can win! Thank you for the support of these virtuous women!
-Karron, your favorite Ruby Girl