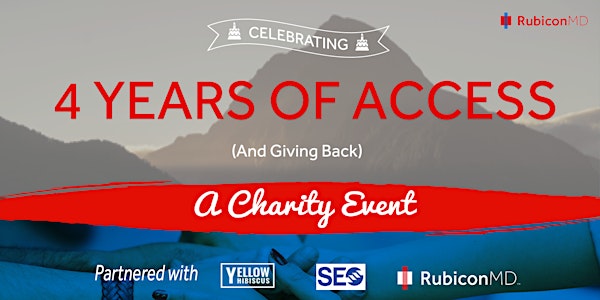 RubiconMD: Celebrating 4 Years of Access
When and where
Location
RubiconMD Headquarters 330 Hudson Street Suite 302 New York, NY 10013
Description
RubiconMD turned 4 this summer! Please join us to celebrate the past four years of increasing access to quality care and to learn what is in store for the years to come. We are partnering with Yellow Hibiscus Gallery, which will be selling art to raise money to support Sponsors for Educational Opportunity (SEO).
Please RSVP to ensure access to the event.
About Us
RubiconMD is a leading eConsult provider, which empowers primary care clinicians with same day insights from top specialists. Our web-based service and mobile application allow for clinicians in any setting to better care for their patients and reduce unnecessary medical expenses.
Latest News from RubiconMD:
· We serve providers and organizations in 34 states across ACO's, hospital systems, health plans, community clinics, correctional facilities, direct primary care clinics, and concierge medicine
· We were awarded the 2017 Heritage Provider Network & Crain's New York Business Innovators in Healthcare Award
· We have been selected as the eConsult vendor for Zuckerberg San Francisco General Hospital's entire system
Latest Platform Metrics:
· 46% of all cases have resulted in an avoided referral
· 84% of our eConsults receive responses in under 4 hours
· 150+ specialties and sub-specialties covered