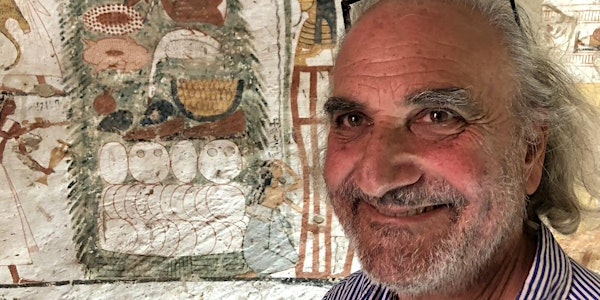 Rubel's Bread History Seminar #35: Live from Kenya! Chapati & Blacksmithing
Live from Kenya! Kenyan chapati, mWanda I and traditional blacksmithing with Augustine Leboiyare and his family. Zooming from Wamba!
Refund Policy
Contact the organizer to request a refund.
Eventbrite's fee is nonrefundable.
About this event
Live from Wamba, Kenya.
Thursday, July 28, 2022: 9:00 a.m. Pacific is 12 noon in New York, 1:00 p.m. in Rio, 5:00 p.m. in London, 6:00 p.m. in Belgium, 6:00 p.m. Luxor, and 10:30 p.m. in Bangalore.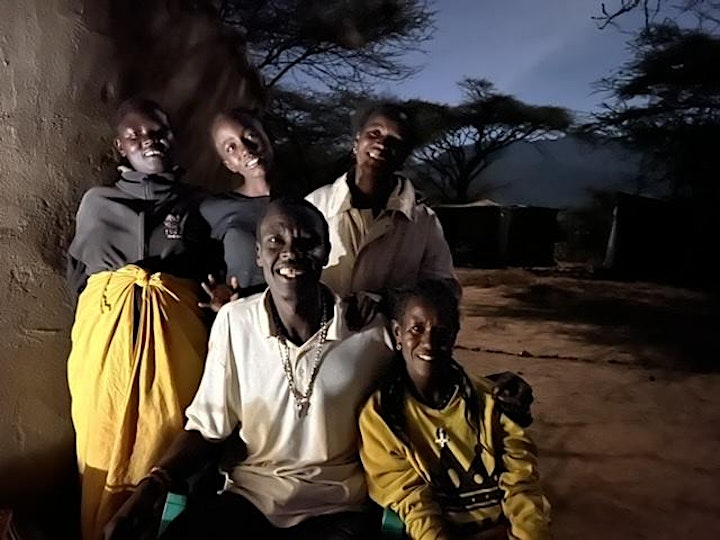 Augustine Leboiyare, and his four wives, Rita, Anna, Cecilia, and Joyce. Augustine and his two brothers, Paul and Marco, and Augustine's sons, all of whom you will meet, are is amongst the last families of practicing Samburu blacksmiths.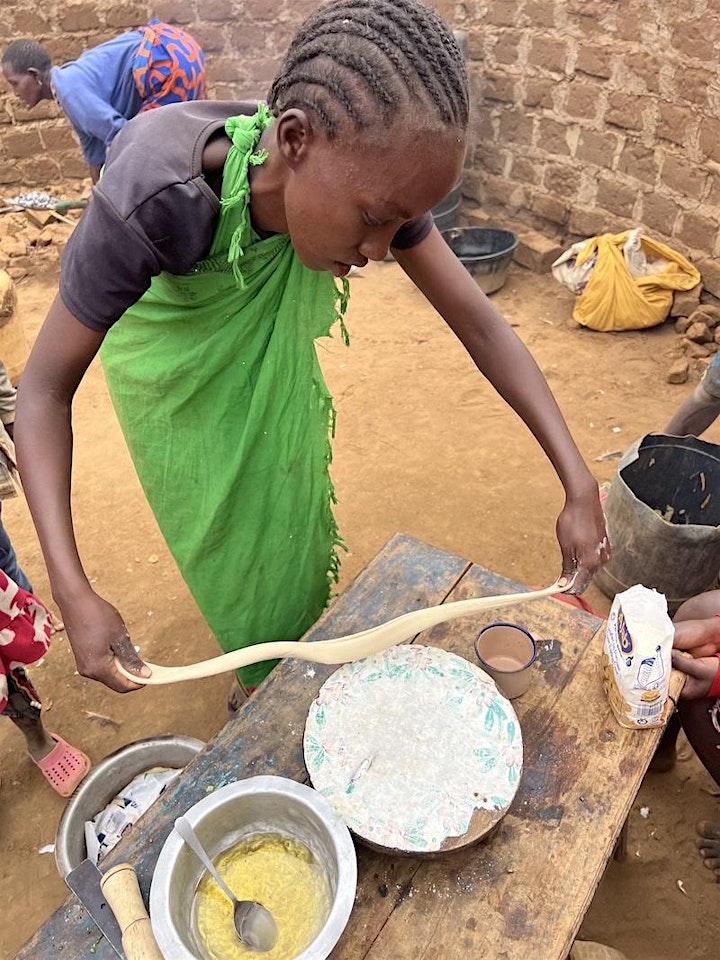 Please come! This will be a Zoom event to remember. Jouyce Leboiyare, Augustine's fourth wife will teach you how to make Kenyan chapati . Augustine and one of his brothers will demonstrate the most ancient Blacksmithing technogy still practiced — metallurgy using charcoal and the leather from the hind legs of a goat to melt the metal. Specifically, you will learn how to convert your tired aluminum cookware into ingots which you can then hammer into whatever shape you like. Augustine will demonstrate bangles. Augustine is demonstrating aluminum because it has a low melt point so it is fast enough to work into a Zoom demonstration.
BUT!
This pre-recorded demonsration (can't be live as it is dark with no electricity when we will be zooming) is unlike any blacksmithing demonstration you will ever have seen or imagined. This is a promise!
A couple dozen members of Augustine's family, mother, eldest and first and youngest wife, son who is inheriting the business, two brothers, sisters, and lots of children are singing the Lkunono clan's traditional song. All I can say is, that all-in-all this is not a session to miss.
Yes, you have to buy a ticket, no free tickets this time. Everyone who buys a ticket will receive a link to the recording, so if you buy a ticket and cannot attend the live event, you will be able to watch it later and also share the link with friends. This will not be made public on YouTube for six months.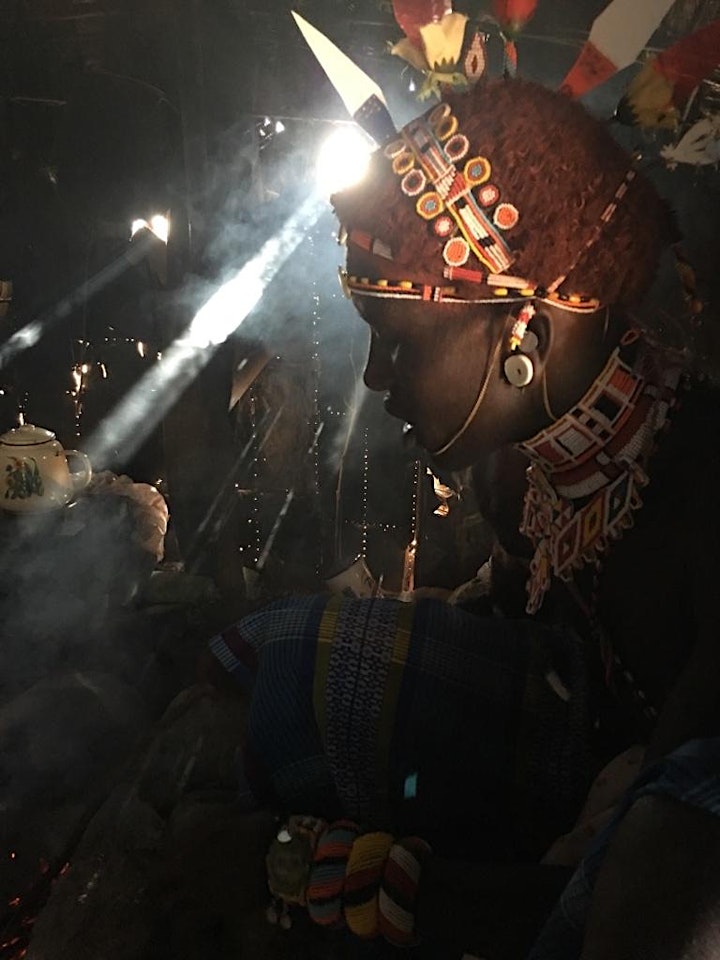 100% of what you send, less EventBrite's charges, will be shared with Augstine's family to materially improve thier lives in ways so fundamental that it is likely nobody in this group has ever seen poverty at the level of this family.
Their "mattresses" are a single grain sack set on a dirt floor. Up to eight people in a small room. With your help Augustine can buy 16 cow skins to cover the floors of his extended family's bedrooms, a cleaner and more comfortable sleeping surface than plastic grain sacks on dirt. One brother, Paul, has not been married in accordance with the traditional Samburu rules. He has not been able to afford the purchase price for the woman he loves, the mother of his six children. Incredibly, until he slaughters a bull and makes progress on the 8 cows he owes, his wife's family -- remember not yet truly wife by Samburu rules -- can take any of his six children away from him. For example, they could take a girl and sell her for a bull and eight hows. This weighs on him. It is a daily concern. II can tell you, based on my thirty years exprience that his concern is real. By chipping in a little bit for a ticket, as a group, we can be his angels.
At this time, water comes from a distance, but with a water pipe and storage tank to connect to the new community water system. That sytem provides running water 2 hours twice a week. This would radically improve the daily life as the blacksmith community of approximately 100 people -- Augustine's immediate family and other relations all of whom live together.
As it hasn't rained in three years, basically, literally, they can no longer grow even a single tomato plant. While they bathe twice a day, the "bath" is rubbing their skin with a damp cloth as there is no water to waste.
We cannot solve all Augustine's family's problems, but as one of the last craftspeople practicing an ancient craft, with your help, you can stabilize their lives giving them an opportunity to adjust to changing times.
As you will see with your eyes, by ancient, I mean ancient. That is word bandied about with too much ease. Augustine is a blacksmith as was his father, his father's father, and his father's father going back it seems in an apparently unbroken clan tradition for a period or time that has no beginng. The technology they use, thigh of goat bellows and charcoal, has its origins in the early development of metallurgy at the end of the Neolithic — the goats, of course, being Neolithic.
I have known this wam and loving family for fifteen years. What I am saying here will be obvious to you from their singing. It is a different world here living this month with Augustine and his blacksmith clan. It is Utopian. Personally inspiring. They are upbreat all the day, while at night they sleep on a plastic sack on dirt.
This family is one of the last practitioners of an art that is on the verge of extinction, along with the pastoraalit lifestyle that is collapsing alll around them. The land Is now totally dead after three rainless years and three decades of degradation from grazing and climate change. This cow-based culture has no cows. 100% of the cows are either dead or a remnant have been walked by warriors a couple hundred kilometers away to graze on the land of a neighboring tribe, which means grazing on contested land defended by its own community's warriors.
One of the few pepole I have spoken with since I have been here who still has cows, said he had 15 when he sent them with warriors over 200km away to graze, but only 4 survived. He doesn't expect any to return. A family I am working with collected the milking containers I have been studying for 30 years has only 6 goats left — but this land no longer supports goats — so they, too, are 200km away. The value of 6 goats 200km from home grazing in contested territory? You fill in the blank. With no animals these people have, literally no remaining resoruces to acquire food. This, of course, also impacts on the blacksmiths whose livelyhood is providing spears and knives to warriors and cow and goat bells to herds.
The consequences of ecological catastrophe are amplified by price increases from the Ukraine war. Starvation is literally creeping into this region. Not figuratively. Literally.
We cannot solve the larger problems, but together, we can help stabilize this family so they can think of how to maintain their traditions in a changing world. We know from Japan that it can be done - ancient crafts can survive radical social cnance.
Please come to my Zoom seminar #34. This is also day before my 70th birthday! So, it will wonderful to see you all while I am still in my 60s!
Please buy a ticket at level you can afford. Thank you.
Who is this Seminar/Workshop for?
This Thursday Seminar/Workshop is for culinary historians, reenactors, anyone interested in food, bread, and culture. If you don't know much (or anything) about culinary history and the history of bread, but would like to learn, then this is also the right event for you.
Who is this not for?
This is not a baking class in the sense that this is not a class for learning how to make bread. We do make a bread dough during the Seminar, but I do not offer much guidance on actual technique, unless it is a technique, like kneading bread with our feet, or baking a bread around a hot rock, that is no longer practiced.
Who leads the Seminar/Workshop?
Most of the Seminars are organized and lead by William Rubel, an independent scholar with a specialty in bread history. There are occasionally guest speakers.
How often are there Seminars?
The Seminars were weekly during the height of the coronavirus lockdown. They are now organized into sessions of four to six seminars spaced at bi-weekly intervals.
How long is the Seminar/Workshop?
Plan on 1 1/2 hours. It will never be longer, but could be shorter depending on the week's topic.
How do we share what our bread turns out like, and how do we continue the discussions started in the seminar?
Discussions begun in the Eventbrite event continue at my Facebook Group, Bread History and Practice. If you are not already a member, I invite you to join.
Will I be able to meet others with my interests? Or, more to the point, can I network?
I keep the Zoom room open for 30 minutes after the program is over so you can speak with me directly. If there is interest, we can open break out rooms after the main talk. These are open to amateurs and specialists alike. One of the rooms is for bakers professional while the other is for millers, reenactors, museum people, and culinary historians. These rooms are where you can ask questions and network.