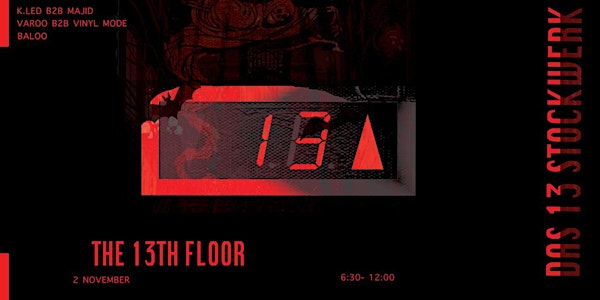 RÜABAGOASCHTERN IM 13. STOCK (Halloween German Style on the 13th Floor)
When and where
Location
The `13th Floor [pin displayed in ticket] Jeddah Saudi Arabia
Description
A Masquerade -
The Golden Ratio, Gleam KSA, and the Consulate General of Germany are collaborating for a special event: Rüabagoaschtern im 13. Stockwerk - Halloween German Style in the 13th Floor. Join us and check out the new epic stage design by The Golden Ratio and an electronic music lineup with local heros.
Put on your best costume and celebrate with us!
Lineup:
Gehlen
Varoo B2B VinylMode
Baloo
---
Message from the Consul General of Germany:
I love to promote cultural exchange between Saudi Arabia and Germany. We organize varied activities to contribute to this goal, and this time - in the tradition of the TRIPLE VOLTAGE & QUANTUM LEAP series - our friends Gleam KSA & The Golden Ratio have prepared an unforgettable immersive Halloween experience.
---
Registration of each attendee is required - one ticket admits 1 person (+0, i.e. no guests) - Limited availability -
- No access without registration and ID, limited availability
- Observe local laws & regulations - No photos or social media posts.