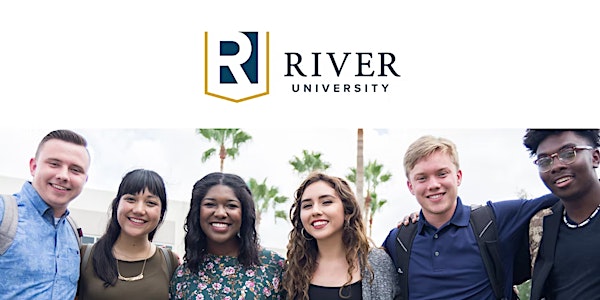 RU Open House / Visita RU
Open House | Visita la Universidad
When and where
Location
RMI World Headquarters 3738 River International Drive Tampa, FL 33610
About this event
IN-PERSON EVENT ONLY
Do you want to experience a day in the life of a River University student? River University Open House will give you an opportunity to tour the Campus, meet the Deans, and decide how best to answer the Call of God on your life.
Who Should Attend?
High school students and their parents
Non-traditional students (such as adult learners and their families)
Pastors, Leaders, and Ministers who yearn for more of the Word and Anointing
Business Leaders who would like to become Kingdom Business minded
Anyone interested in pursuing the call of God on their life
You will have the opportunity to:
Explore RU's many programs, including certificates, associates, and bachelor's degrees
Meet RU students, faculty, and staff
Learn about student organizations and activities
Attend class sessions, learn about scholarship availability, and the easy-to-use admissions checklist
Learn how you can be equipped to carry out God's plan and purpose
Upon your arrival, registration will include a welcome package that will be presented to you in person. Please dress comfortably as you will be touring the property. Also, note that registration for this event is to confirm attendance. Children are welcome; breakfast and lunch will be provided on both days.
So join us for two days filled with fun and engagement, Friday, December 2, and Saturday, December 3, 2022!
What to expect:
Friday: 9:00 AM - 2:30 PM - School Tour & Meeting the Deans
Saturday: 9:00 AM - 2:30 PM - Soul Winning & Street Evangelism
SEE YOU SOON!
EVENTO SOLO EN PERSONA
¿Quieres experimentar un día en la vida de un estudiante de River University? El evento de visitas a River University te dará la oportunidad de recorrer el campus, conocer a los decanos y decidir cuál es la mejor manera de responder al llamado de Dios en tu vida.
¿Quién debería asistir?
Estudiantes de secundaria y sus padres
Estudiantes no tradicionales (como estudiantes adultos y sus familias)
Pastores, Líderes y Ministros que anhelan más de la Palabra y la Unción
Líderes de negocios que desean obtener una mentalidad de negocios del Reino
Cualquier persona interesada en perseguir el llamado de Dios en su vida
Tendrás la oportunidad de:
Explorar todos los programas de RU, incluyendo los certificados, y licenciaturas de asociados y bachillerato
Conocer a los estudiantes, profesores y personal de RU
Aprender sobre las organizaciones y actividades estudiantiles
Asistir a las sesiones de clase, aprender sobre la disponibilidad de becas, y la fácil de usar lista de verificación de admisión
Aprenda cómo puede estar equipado para llevar a cabo el plan y el propósito de Dios
A su llegada, la inscripción incluirá un paquete de bienvenida que se le entregará en persona. Por favor, vístete cómodamente ya que vas a recorrer la propiedad. Además, tenga en cuenta que la inscripción para este evento es para confirmar la asistencia. Los niños son bienvenidos; se les proporcionará el desayuno y el almuerzo ambos días.
Acompáñenos en dos días llenos de diversión y participación, el viernes 2 y el sábado 3 de diciembre de 2022.
Actividades:
Viernes: 9:00 AM - 2:30 PM - Visita la Universidad y Reunión con los Decanos
Sábado: 9:00 AM - 2:30 PM - Ganando Almas y Evangelismo en la Calle
¡NOS VEMOS PRONTO!