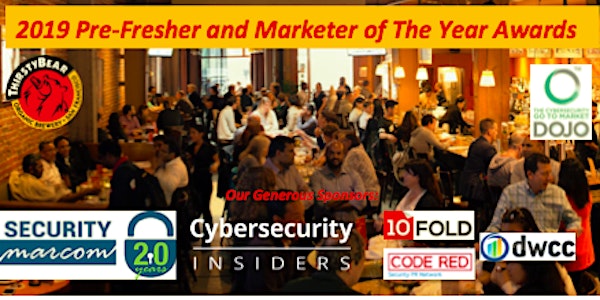 RSA 2019 Marketer's PreFresher Happy Hour & Marketer of the Year Awards
The only event at RSA built for cybersecurity marketers by cybersecurity marketers. Come network, share and celebrate with your peers.
When and where
Location
ThirstyBear Brewing Company 661 Howard Street San Francisco, CA 94105
About this event
For cybersecurity marketers, RSA actually starts the weekend before. The great rush of getting everything ready and perfect before Monday evening's show opening, gets to all of us.
SO TAKE A BREATHER AND JOIN US FOR DRINKS AND APPETIZERS AT THE INAUGURAL RSA "PRE-FRESHER" SUNDAY HAPPY HOUR, CONNECT WITH FELLOW CYBERSECURITY MARKETERS AND BE PART OF THE IN CROWD!
In addition, for the first time ever, we will be handing out our Cybersecurity Marketer of the Year Awards.
Generously sponsored by
(Additional sponsorships available contact Beau at martechsec@gmail.com)
This is the perfect pre-show setting to network, connect and share a moment with the leading group of cybersecurity marketers on the planet, before the official RSA conference madness begins.
Produced by:
Cybersecurity Go To Market Dojo - The Dojo is an open place to network with like minded leaders and learn and share best practices, find and provide mentoring, and advance the art and science of Security Marketing. Please join our community at www.gotomarketdojo.com or get more information from ken@kjrassociates.com
Cybersecurity Marketing Leadership Forum - The Cybersecurity Marketing Leadership Forum is a private invite-only group for security industry CMOs, VPs, and heads of marketing who want to network with their industry peers, share ideas, and keep up with the latest B2B marketing trends in a casual fun environment. The Forum holds monthly sponsored CMO dinners and other events in the San Francisco Bay Area. For sponsorship information or to request an invitation to one of our events, please email us at martechsec@gmail.com.
Note: The RSA PreFresher is an event for the cybersecurity marketing community. Marketers from security vendors will be given first priority for tickets. Registrants from non-sponsoring vendors (Agencies, Marcom Vendors, Consultants, etc) will be added to the event waitlist and accommodated on a space available basis with no more than 2 attendees per firm.