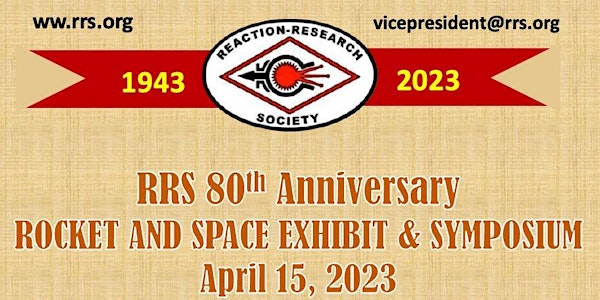 RRS 80th Anniversary Rocket and Space Symposium 2023
Our symposium is back and its our 80th Anniversary. You have to swing by and experience our rocket & space symposium. See you there!!
By Reaction Research Society
When and where
Date and time
Saturday, April 15 · 8am - 5pm PDT
Location
Mary Star of the Sea High School 2500 North Taper Avenue Los Angeles, CA 90731
About this event
The Reaction Research Society, RRS, is hosting their their 2023 Symposium to celebrate their 80th Anniversary. Please join us on Saturday, April 15th at the Mary Star High School in San Pedro. The symposium is open to the public and is free to attend. You could come anytime between 8:00 am and 5:00 pm.
We will have both exhibits and a series of speakers throughout the day on scientific topics relevant to rocketry and space. The symposium is an open event to the public emphasizing the importance of STEAM education and community involvement with rocketry. 
We will have a good mix of private industry, universities, government agencies and even schools who we have worked with. This will be a very positive day to inspire more people of all ages to be more active in aerospace, science and technology. The event is great for the entire family.
Event to emphasize the importance of STEAM education
Professional and amateur rocketry
Representatives of industry, universities and private organizations will be in attendance
Since 1943, we have built on the passion people have for rocketry as an educational hobby
Contact Info:
Email: vicepresident@rrs.org
Web: www.rrs.org
If you want to attend our monthly meetings here is the info:
When: Second Friday of every month
Time:  7:30 pm – 9:00 pm
Address:  Compton/Woodley Airport Office
901 Alondra Boulevard
Compton, Ca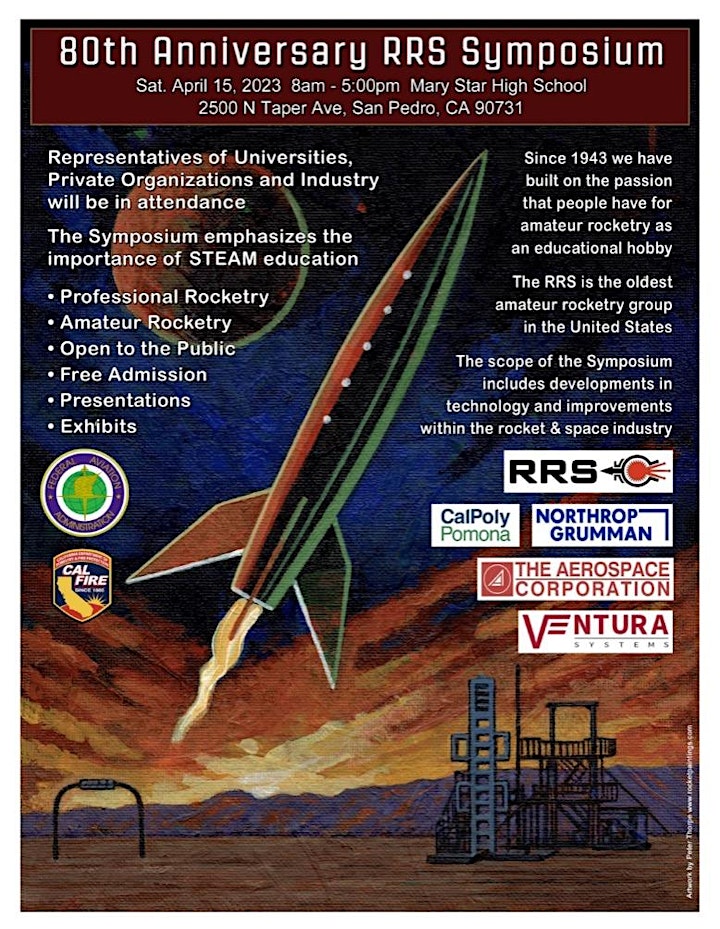 About the organizer
The Reaction Research Socity (RRS) is the oldest amateur rocketry group in the USA. The RRS is celebrating its 75th anniversay this year. Since 1943, the RRS has built on the passion people have for rocketry as an educational hobby. The RRS is a 501(c)3 educational non-profit group dedicated to amateur rocketry.