Description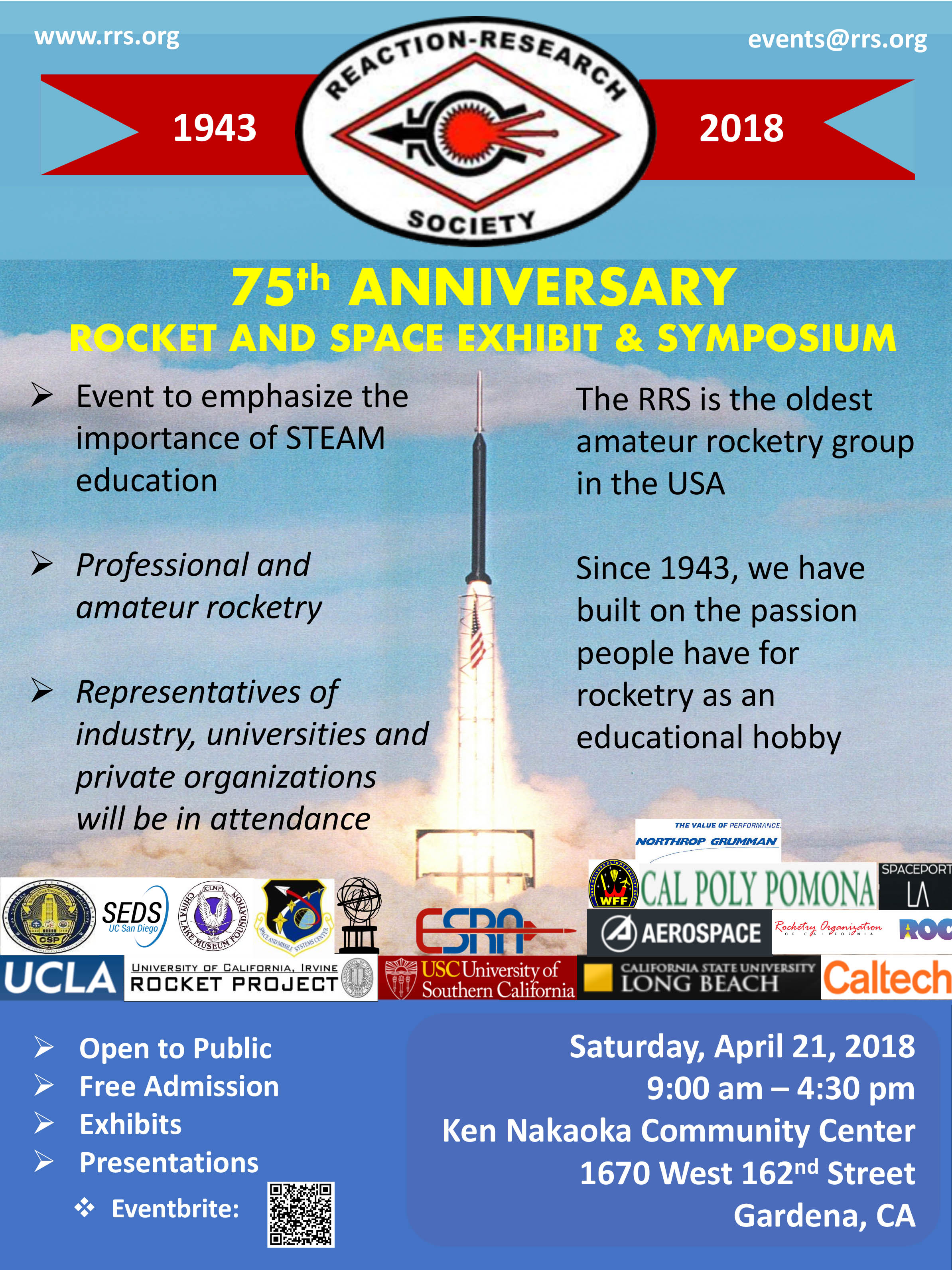 The Reaction Research Society, RRS, is celebrating their 75th anniversay. Please join us at our symposium on Saturday, April 21st at the Ken Nakaoka Community Center in Gardena. The symposium is open to the public and is free to attend. You could come anytime between 9:00 am and 4:30 pm.
We will have both exhibits and a series of speakers throughout the day on scientific topics relevant to rocketry and space including Mars. The symposium is an open event to the public emphasizing the importance of STEM education and community involvement with rocketry.
We will have a good mix of private industry, universities, government agencies and even schools who we have worked with. This will be a very positive day to inspire more people of all ages to be more active in aerospace, science and technology. Event is great for entire family.
Event to emphasize the importance of STEAM education
Professional and amateur rocketry
Representatives of industry, universities and private organizations will be in attendance
Since 1943, we have built on the passion people have for rocketry as an educational hobby
Some Participates:
Aerospace Corp
Northrop Grumman
USC (USCRPL)
UCLA
UCI Rocket Project
CSULB (Long Beach)
CalTech
UCSD SEDS
Cal Poly Pomona
ROC
ESRA
SpacePort
Space and Missile Systems Center
Heritage Center
China Lake Museum
NAWC
Contact Info:
Email: events@rrs.org
Web: www.rrs.org
If you want to attend our monthly meetings here is the info:
When: Second Friday of every month
Time: 7:30 pm – 9:00 pm
Address: Ken Nakaoka Community Center
1670 West 162nd Street
Gardena, Ca 90247