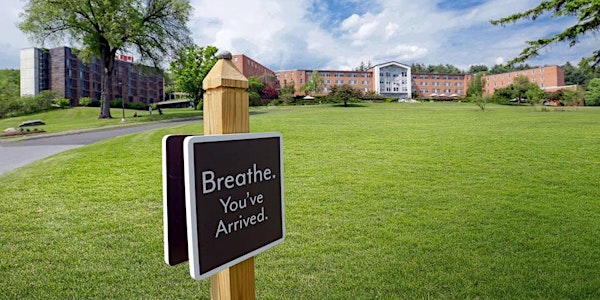 R&R Transformation Weekend at Kripalu with Kristi and Jacqueline
Reconnect to yourself and creative massive, supported shifts!
When and where
Location
Kripalu Center For Yoga & Health 57 Interlaken Road Stockbridge, MA 01262
About this event
Join us to reconnect to yourself and creative massive, supported shifts! This retreat is for you if you are ready for transformation and to uplevel your life, including business and finances, shift and reprogram your mindset and self care, and create lasting changes based on your Human Design. Price: $500 program fee (non-refundable) price increases 9/15) PLUS overnight accommodations starting at $450 (includes all meals and R&R activities like hiking, kayaking and yoga classes).
Have you heard of Human Design? Do you know that you have your own unique blueprint for designing your dream life?
Your unique chart gives you insights into how you can live your life with ease, flow and abundance. During this retreat Kristi Hoffa Sullivan will share with you how you can create your designed life.
Then Jacqueline Kane will guide you to clear the conditioned habits and patterns that you inherited that you aren't even aware of. When you clear those blocks you can easily and effortlessly live by your design so that you can receive more of what you desire.
If you're in, early bird payment is due ASAP to secure your spot. $500 PLUS overnight accommodations starting at $450 (includes all meals and R&R activities like hiking, kayaking and yoga classes).Price increases 9/15. Book early, space is limited to 10 people.
If you are interested and have questions email me at jacqueline@jacquelinemkane.com so I can answer them for you.
If you are looking to finish up 2022 with mind blowing results you will want to be at this retreat! You will leave feeling lighter in your body, reduced physical pain, feel relaxed, renewed and know that you can create a life that you love!
Meet your presenters:
Jacqueline M Kane:
As a Master Energetic Healer, Jacqueline guides women to uncover their hidden energetic and karmic blocks that keep them in physical, emotional and financial pain. By using her Uncover The Root Cause process we unravel negative thoughts and clear limitations including inner child and ancestral karma that has held them back for decades. Her clients are able to quickly and easily achieve major shifts in creating a new level of health, wealth and lifestyle they desire now.
Busy moms, entrepreneurs, and professionals benefit from her individual and group programs based on decades of expertise in the healthcare industry and private practice. Jacqueline facilitates deep healing of trauma, low back pain, and chronic conditions tied to limiting mindsets impacting health and wealth. Clients' proven results are reclaimed energy, moving freely and powerfully, and manifesting their goals aligned with soul purpose. If you're ready to reach your health and wealth goals today visit https://jacquelinemkane.com/
Kristi Sullivan:
Kristi H. Sullivan a Human Design and Self Care expert, author and speaker on a mission to help busy women STOP OVERWORKING AND START OVERFLOWING! She hosts a virtual community for female personal development junkies (like herself) to create better wellness, improve relationships, shift mindsets, and manifest more success, wealth and freedom - to live their best life "by design."
Kristi is lead author of a best-selling Amazon book called Stop Overworking & Start Overflowing: 25 Ways to Transform Your Life Using Human Design, published in October 2021 through Brave Healer Productions with 25 other Human Design practitioners. She also is co-author of three collaborative books that were produced during the 2020 pandemic, along with two new anthologies launching this summer.
Kristi teaches internationally, both in person and virtually, and has been featured on dozens of podcasts, workshops and conferences. She also has been a certified yoga instructor for nearly two decades, and became a full-time solopreneur in 2020.