RPW (Republican Party) 4th Congressional Dist - 2nd Amendment Day Cocktail,...
Description
REPUBLICAN PARTY OF WISCONSIN
4TH CONGRESSIONAL DISTRICT
Invites you to its annual

2ND AMENDMENT Cocktail, Appetizer
& Gun Raffle Celebration
FANTASTIC (4 GUN) FIREARMS RAFFLE
Grand Prize: Henry H010B 45-70 Rifle
1st Prize: Henry H004 Goldenboy .22 Cal.

2nd Prize: M&P 40 Shield .40 Cal.
3rd Prize: Pink Lady .38 Cal.

SATURDAY, October 7, 2017

With Special Keynote Speaker State Senator DAVE CRAIG
on "Constitutional Right to Carry"
& Milwaukee County Supv DAN SEBRING
on "What the 2nd Amendment REALLY MEANS!"


at JOE's K RANCH Restaurant
4840 S Whitnall Ave. Cudahy, WI 53110
(414 481-1775)

Cocktails & Appetizers 6:30 - Program 7:00 PM
- 7:30 Drawing
$20 Raffle Tickets / 3 for $50 Raffle Tickets
$100 Host (Includes Recognition & 5 tickets)

Info & Ques: 414 985 5353 / CD4.Chairman@wisgop.info Send check:
RPW 4th Cong Dist to Bob Spindell, Chair 1626 N Prospect Ave Mil, WI 53202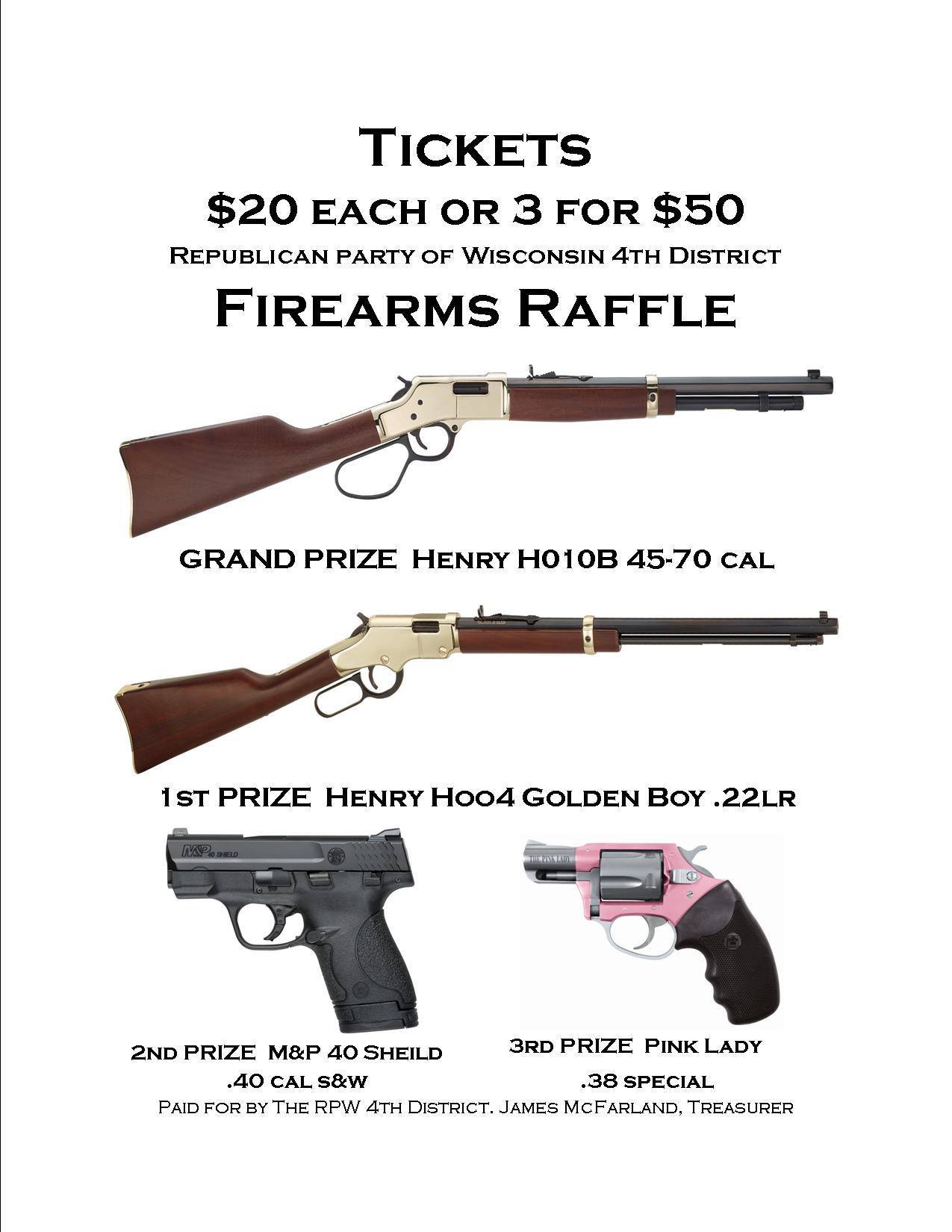 Any questions? Please contact the RPW-4th Congressional District Treasurer, James McFarland at 414-665-2720.
Come join your fellow Republicans and Firearm enthusiasts as we celebrate the 2nd Amendment to our precious US Constitution.