Description
OPEN TO THE PUBLIC
ALL AGES - FAMILY EVENT
The Rochester Police Emerald Society is hosting this pig roast fundraiser and Irish Music & Dance Festival to raise funds to bring over and host Gadra Síochána (Police of The Republic of Ireland) to join us for the 2019 St. Patrick's Day Parade for The Rochester Police Department's 200th Anniversary. Your ticket includes pig roast dinner and sides, drink specials and more than 9 hours of Western, NY's best live Irish musicians, Pipe & Drums and Irish Dance.
Music from 1916, Himself, Dave North Trio, Brian Quigley, Peg and the Fiddler, Kevin Reynolds, Gavin Barry, Gerry Dixon, The Dungarees, Gates Keystone Pipe and Drum and reunion performance by THE WILD GEESE. Dance Performances by Jamieson Irish Dance and Rochester Academy of Irish Dance. Master of Ceremonies Bob Lonsberry and Maureen McGuire.
Prize raffles, silent auctions, and several 50/50 raffles will occur throughout the event.
Free parking avalable at Paychex, 911 Panorama Trail S., Rochester, NY 14625 with free shuttle to Timothy Patrick's. Shuttle service donated by Excel limosine service.
Ages 12 and under are free.
Free soda and water for Designated Drivers.
RPES would like to thank the following sponsors of this event:
Timothy Patrick's Irish Resturant and Pub, Excel Limosine, Rochester Police Locust Club, Caverly's Irish Pub, Johnny's Irish Pub, O'Lacey's Irish Pub, Temple Bar and Grille, Mulconry's Irish pub and Restaurant, Irondequoit Nightstick Club PBA, Punisher's Motorcycle Club, The Home Depot, Gro-Moore Farms and volunteers from the Rochester Police Emerald Society, Anchient Order of Hibernians, Lady AOH, Punisher's MC, and BSOA.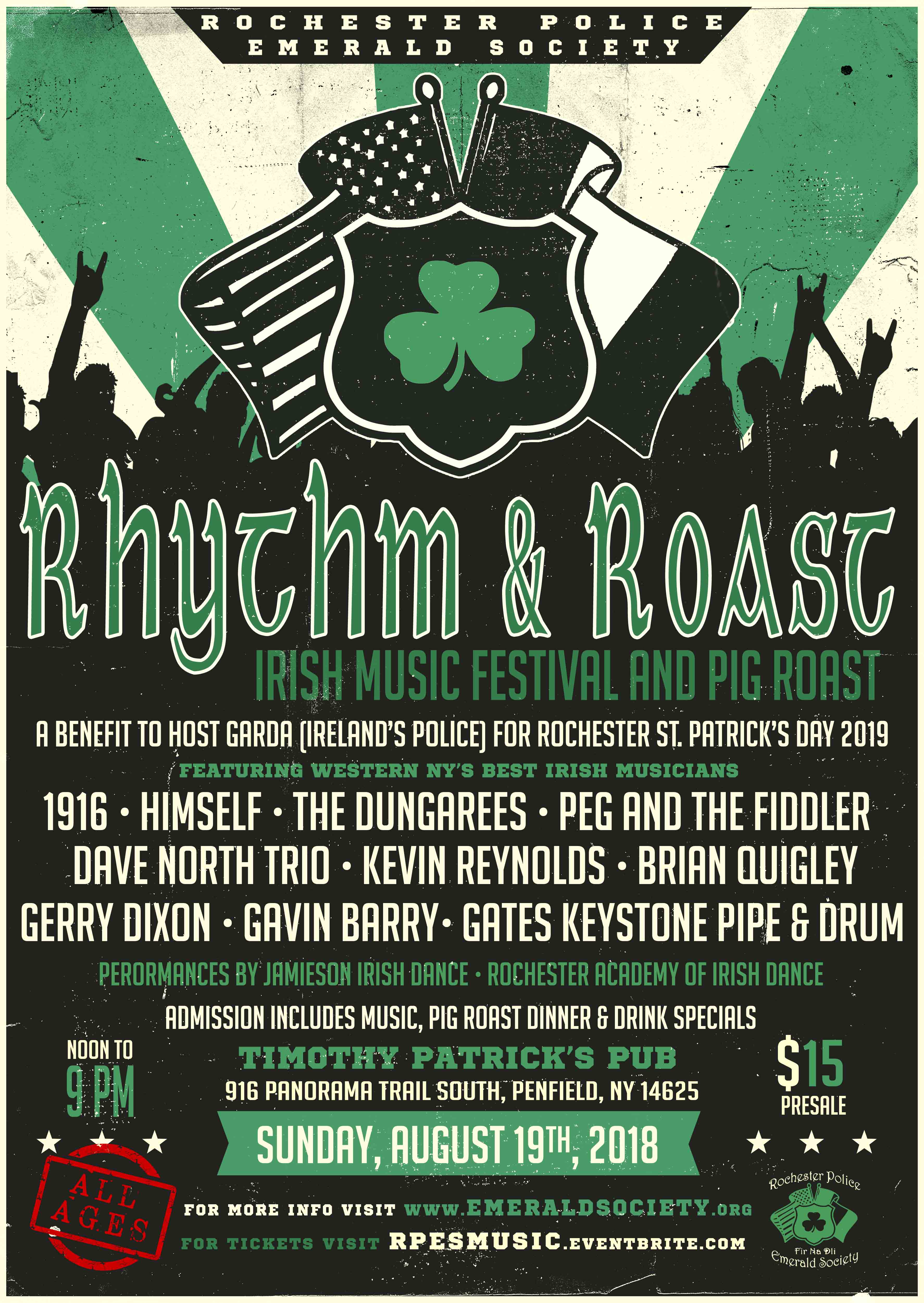 Organizer of RPES RHYTHM & ROAST - Irish Music Festival and Pig Roast
Rochester Police Emerald Society (RPES) is a non-profit fraternal organization comprised of Irish-American Law Enforcement Officers from local, state, and federal Law Enforcement Agencies operating in the Rochester, NY area. The purpose of the organization is to promote pride of our Gaelic heritage and the accomplishments of Irish-Americans in Law Enforcement, to foster camaraderie and brotherhood among our members and their agencies, to support law enforcement and Irish charities, and to create goodwill for law enforcement through community events.