Location
Sheraton New York Times Square Hotel
811 7th Avenue at 53rd Street
New York, NY 10019
Refund policy
Contact the organizer to request a refund.
Eventbrite's fee is nonrefundable.
Two-day hybrid event with sessions and meal events in-person on Monday, March 21, 2022, and virtual sessions on Tuesday, March 22, 2022
About this event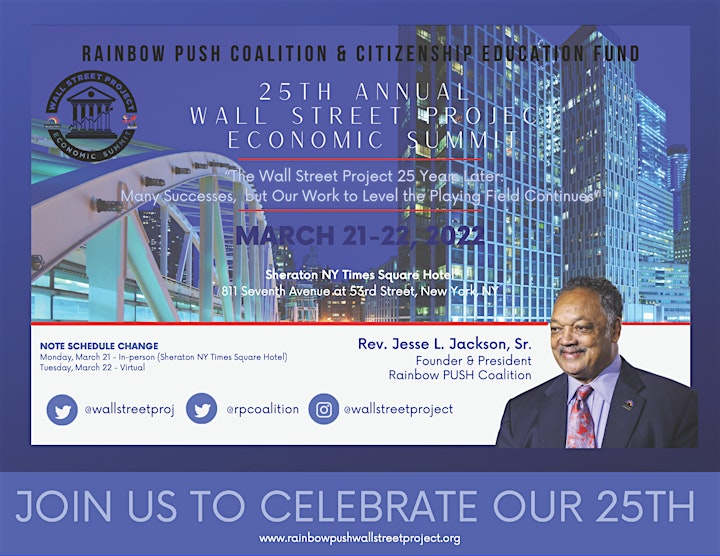 AGENDA HIGHLIGHTS
MONDAY, MARCH 21, 2022 (in-person)
LABOR & MINISTERS BREAKFAST
Rev. Jesse L. Jackson, Sr., Founder & President, Rainbow PUSH Coalition
Rev. S. Todd Yeary, Ph.D., Esq., EVP/Chief Executive Officer, Rainbow PUSH Coalition and Affiliates
THE WALL STREET PROJECT'S IMPACT: THEN AND NOW EXPANSION AND UTILIZATION OF DIVERSITY AND ASSET MANAGERS
MODERATOR:
Cynthia DiBartolo, Esq., Chief Executive Officer, Tigress Financial Partners  (DOBE & WBENC Broker-Dealer); and Chief Executive Officer, RISE Financial Services (Diversity Prime Broker)
SPEAKERS:
Gregory Francis, Chief Investment Officer, New York State Insurance Fund
Malik T. Murray, Senior Vice President, Head of Business Development, Institutional Marketing, Ariel Investments
James Roundtree, Managing Director of BNY Mellon | Pershing
Jia Shan, Managing Director, Investment Banking Division, Goldman Sachs
Stephanie Smith, Managing Director, Chief Operating Officer of BlackRock Alternative Investors ("BAI")
Brandon Sun, Director, Investment Banking, Deutsche Bank Securities Inc.
WALL STREET PROJECT BUSINESS LUNCHEON
SPEAKER:
The Honorable Eric L. Adams, Mayor, City of New York
VIDEO TESTIMONIALS: President Bill Clinton, Former NYSE Chairman & CEO Dick Grasso, and more
SPONSOR REMARKS:
Jamael R. Hester, Chief Of Staff, Office of the President of North America, The Coca-Cola Company
Georgette "Gigi" Dixon, Head of External Relations, Wells Fargo
HONOREES:
Dr. Alan Greenspan, Former Chairman, Federal Reserve System (Video acceptance)
BNY Mellon (Award to be accepted by James Roundtree, Managing Director of BNY Mellon | Pershing)
John W. Rogers, Jr., Chairman, Co-CEO & Chief Investment Officer, Ariel Investments
TUESDAY, MARCH 22, 2022 (virtual)
AFRICAN CONTINENTAL FREE TRADE AREA (AFCFTA)
The African Continental Free Trade Area (AfCFTA), the largest global free trade area by countries participating, could transform the continent's economic prospects. It aims to be a model of cross-border cooperation in an era of growing isolationism. However, the arrival of COVID-19 in 2020 has rapidly reshaped countries, societies, and communities. The speakers will discuss the impact of COVID-19 while AfCTTA is being implemented and how to attract foreign investments.
MODERATOR:
Ms. Matilda Arhin, President, Ghana International Chamber of Commerce
PANELISTS:
Mr. Olivier Kamanzi, President & CEO, Africa Global Chamber of Commerce
Mr. Malose Letsoalo, Minister, Economic – Embassy of South Africa
Ms. Niclette Mundabi, Africa Portfolio Manager – Money Gram International
THE BUSINESS OF SPORTS: "After The Cheering Stops"
This session features former NFL players who are now leading successful businesses as advocates and advisers to other professional athletes to help with the difficult transition from their athletic careers into their new life off the field.
MODERATOR:
Dr. Joseph Bryant, Jr., D. Min, Executive Director & West Coast Field Director, Rainbow PUSH Silicon Valley/Bay Area Office, PUSHTECH Programs & Connected Churches
PANELISTS:
Jelani Jenkins, NFL VET, Entrepreneur, Forbes 30 under 30
Reginald Grant, NFL VET, Business Consultant & Entrepreneur
Dave Desrochers, NFL VET, Vice President NFLPA, Orange County
Darryll Stinson, Former Division 1 Athlete, Author, Speaker, and Suicide Survivor
THE BUSINESS OF SPORTS
MODERATOR:
Dr. Joseph Bryant, Jr., D. Min, Executive Director, Rainbow PUSH Silicon Valley/Bay Area & PUSHTECH Programs; National Director, Rainbow PUSH Sports; and West Coast Field Director, for Rev Jesse Jackson/PUSH
PANELISTS:
Drew Davis, Former NFL Player, Coach, current Director of Player Development at UCLA
Isaac Jones, Former NFL Player, Wealth Management Advisor for Athletes in Transition
Dr. Richard Lapchick, Director, Institute for Diversity & Ethics in Sports
Attorney Jaia Thomas, Lawyer specializing in The Business of Sports and Sports Careers
Billy Thompson, Former, NBA Player, Founder, and Lead Pastor Jesus People Proclaim International Church
INFRASTRUCTURE FOR EQUITY
This session will provide how historical infrastructure impacts communities. The conversation will offer insight on current infrastructure that can move communities forward. And the key component is how we can envision the technological future of how infrastructure brings parity to health, education, and thriving economies, for all communities. Infrastructure for Equity!
Clayton Banks, Chief Executive Officer & Co-Founder of Silicon Harlem
Peter Norton, University of Virginia
For more information about the Summit and updated agenda, visit: rainbowpushwallstreetproject.org 
CONTACT INFORMATION:
649-599-5889
wspes2022@charlyproductions.com and rainbowpushwallstreetproject@gmail.com
------------------------------------------------------------------------------------
REFUND POLICY
If you are unable to attend and wish to receive a full refund, you must send a written notice (via email to conferenceregistrations@rainbowpush.org and wspes2022@charlyproductions.com no later than 8:00 PM ET on Friday, March 11, 2022. 
NO REFUNDS WILL BE ISSUED AFTER FRIDAY, MARCH 11, 2022.