Multiple Dates
Royal Orchid Wine presents: Bottled Journey 2021
Sales Have Ended
Ticket sales have ended
Thank you and look forward to seeing you soon!
Sales Have Ended
Ticket sales have ended
Thank you and look forward to seeing you soon!
Tastings with over 100 wines from around the world
About this event

October 26~28, 2021
@ PopUpHK Central, 36 Cochrane Street, Central, HONG KONG
Tasting Sessions:
* Session A: 6:30~8:30 P.M
* Session B: 8:30~10:30 P.M
BOTTLED JOURNEY TICKET PACKAGE :
1 x Lucaris Desire Universal Wine Glass (Value @ HK$235)
1 x Purchase coupon (Value @ HK$250)
FREE Tasting Admission for entering bottled journey tasting session
* The purchase coupon can be used to buy any wine listed on the tasting event order form (with order amount over HK$1250) and is valid only on the tasting event day.
PACKAGE PRICES:
* Early bird special price HK$380/person only
* GROUP (of 4) special offer HK$300/person
* Regular price HK$480/person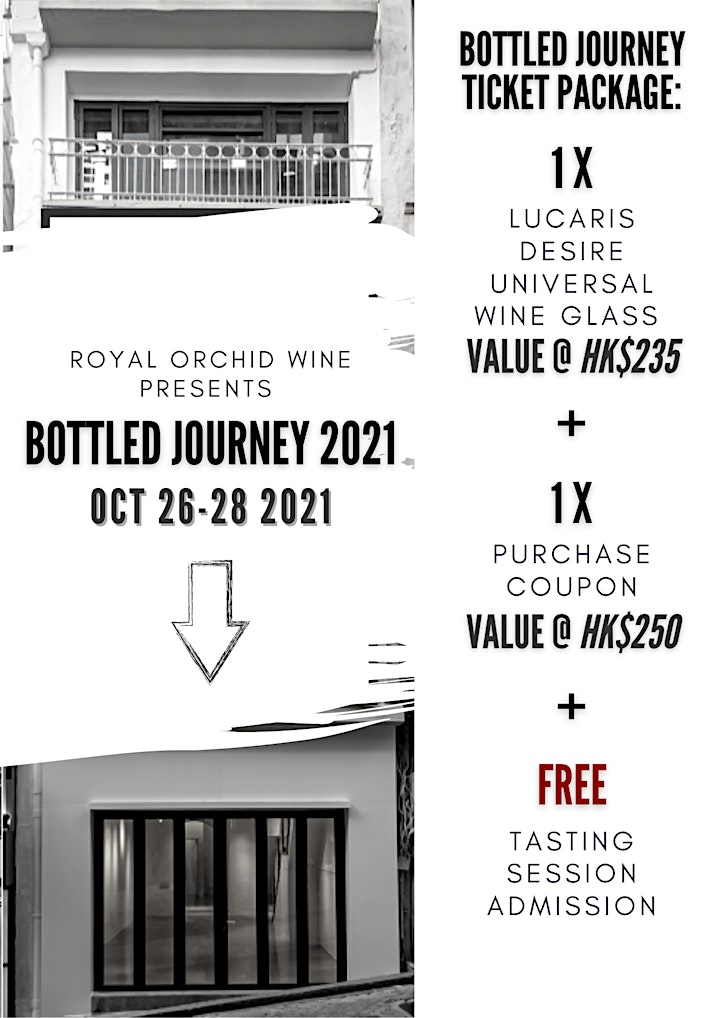 Royal Orchid Wine presents: BOTTLED JOURNEY 2021
Some said wine is bottled poetry. We believe wine is a bottled journey.
Traveling has been banned for so long that we might have forgotten the feeling of starting a new journey and exploring new places. Yet to us, the journey within a bottle of wine can be equally inspiring. By tasting that bottle of wine, we are able to explore the culture, the terroir, the people, and the history of its origin.
You are now cordially invited by Royal Orchid Wine for joining our 3-Day Grand Portfolio Tasting Event "Bottled Journey" 2021! We will create a refreshing and unique wine experience – to have numerous journeys that are being captured in over 100 wines. We look forward to meeting you there!
• Wine Gallery – Exploring wines in a different way
• Several masterclasses to taste rare and perfect-score wines
• Full access to a wide spectrum of wines from around the world and some highly sought-after regions
• Over 100 wines to be tasted
**HEALTH & WELL-BEING AT THE TASTING**
Only tasters who have received at least one dose of vaccination will be admitted and are also required to scan the 'Leave Home Safe' app upon entry. The organizer will deny entry to attendees who do not comply with this rule. Face masks must be worn when not tasting.
For any question, please contact us at info.hk@royalorchid.com.hk.
Paticipating Wineries:
And more ...... 
Click here to check out the wine list!

Master Class session (7:30~8:30pm)
(masterclass tickets are sold separately, including free admission to 8:30~10:30pm tasting session on the same day)
26 Oct - US Cabernet: More than Napa ($1480/person, 16 guests only)
27 Oct - Super Tuscan: 50 Years After the First Release ($1380/person, 10 guests only)
28 Oct - Kopke: Back to A Century Ago ($880/person, 10 guests only)
* * * * * * * * * * * * * * * * * * * * * * * * * * * * * * * * * * * * * * * * * *
Check out more about the Grand Tasting event and winery detail through our FACEBOOK and WEBSITE! 

Organizer of Royal Orchid Wine presents: Bottled Journey 2021
Royal Orchid Wine (Hong Kong) Company Limited has an advantage on the tremendous resources, support and business connection for being a member of Midea Holding. Royal Orchid Wine is a professional wine importer and distributor of fine wines, spirits, and alcoholic beverages, and at the same time provides en-primeur and wine investment services, and a WSET approved program provider. Sales coverage includes Hong Kong, Macau and mainland China.
Now that Royal Orchid Wine carries over 30 exclusive agency brands of wines all over the old world and new world, covering France, Italy, Portugal, Germany, New Zealand, Australia, United States, Canada, Chile, Argentina, etc. We strive to source and fine tune our portfolio by bringing in wine of superior quality at the best price. 
In where Midea Holding is located, Shunde, China, our parent company owns a Royal Orchid Clubhouse, a Royal Orchid International wine shop, Ningxia Meiyu Winery, an international Golf Club namely Royal Orchid International Golf Club, and 2 hotels, Shunde Marriott Hotel and Zhuzhou Marriott Hotel, etc.. All of which shall be our business partners that promotes the wine culture, supports wine marketing events and promotional activities.

Ningxia Meiyu Winery (the "Winery") is located in the picturesque International Wine Town Centre at the foot of Helan Mountain, in the northern part of Ningxia Province, China. The Winery covers an area of 120 hectares, of which 100 hectares are vineyards for growing wine grapes. Production will go live in late 2016.

We thank you for your support and look forward to your next patronage.