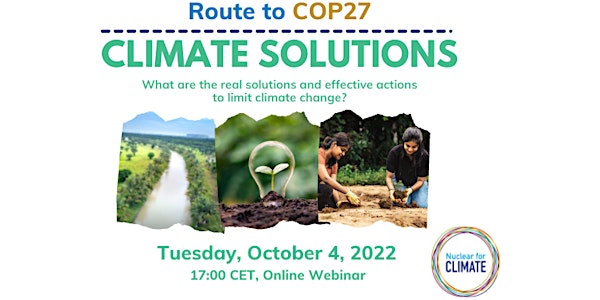 Route To COP27: Climate Solutions
What are the real solutions and effective actions to limit climate change?
About this event
Did you enjoy and learn something from our first pre-COP event on Climate Urgency? Do you want to learn about ways we can decarbonize the industry? Don't worry! We got another exciting webinar planned for you, and this time it is on Climate Solutions on October 4.
To prevent severe climate change, we need to rapidly reduce global greenhouse gas emissions. The world emits around 50 billion tonnes of greenhouse gases per year. Emissions come from many sectors and we need many solutions to decarbonize the economy. Focusing on energy industry alone is insufficient. This second webinar in our three-part series will explore the different climate change solutions in different sectors such as in the energy industry, food and agriculture, the chemical industry amongst others.
We got speakers coming from the SDG7 Youth Constituency, IAEA, Brimstone, Rolls Royce SMR, and Urenco to share their views on different climate solutions. Make sure to follow us on our LinkedIn and Twitter webpages to get the latest updates on this event and our future events.
Register here and join us!
If you have any questions, please contact: nuclear4climate.cop27@gmail.com
Looking forward to seeing you at the event.
Nuclear For Climate Team