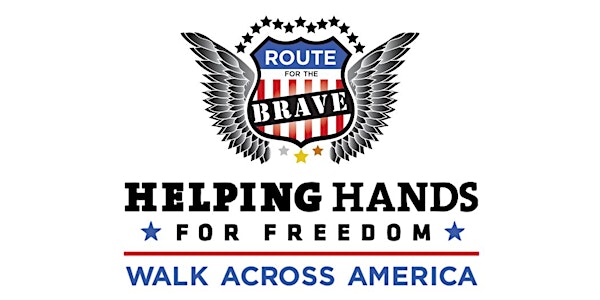 Route for the Brave 5-Mile Walk - Shelbyville, Indiana
When and where
Location
Downtown Shelbyville 28 Public Square Shelbyville, IN 46176
Description
The 5-mile walk will begin and end in downtown Shelbyville on the circle. We will walk from the circle in downtown Shelbyville down State Road 44 toward the Walmart, then walk back to the circle. View the route for the Shelbyville Walk.
The event starts at 2:30 p.m. and the walk will conclude at 4 p.m. We will have activities after the walk.

All proceeds go to Route For The Brave, which kicks off April of 2016 and is a 3,091 walk across America to raise funds for a retreat house for military families.
FAQs
What is Route for the Brave?

The Route for the Brave - Walk Across America is a fundraising event happening April 2016 through August 2016, in support of Helping Hands for Freedom's effort to build a retreat house for military members and their families who have endured multiple deployments, been wounded, or who have died in the line of duty.
For more information about the Walk Across America and the retreat home please visit www.routeforthebrave.org
What is Helping Hands for Freedom?

Helping Hands for Freedom is a 501(c)3 non-profit organization that supports military children & families facing injury, loss, and multiple deployments.

Helping Hands for Freedom has a primary mission of supporting the surviving spouse and children of a veteran who doesn't return from the conflict. It can take months for a family to receive the death benefit and often this also results in a relocation from base housing. HHFF steps in to help with basic expenses during their time of transition. We assist those severely wounded who need equipment or housing modifications as they adjust to new life circumstances. We also help the children with life enrichment programs, mentorship, and counseling.
More information available at www.helpinghandsforfreedom.org
I am interested in Sponsoring this event, who do I contact?
Call or email Paul Gable at 317-412-7881 or pgable@routeforthebrave.org.
Where can I contact the organizer with any questions?
Call or email Paul Gable at 317-412-7881 or pgable@routeforthebrave.org.