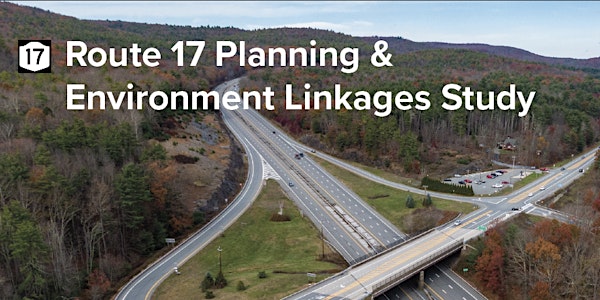 Route 17 Planning & Environment Linkages Study Public Workshop #1
Attend the first virtual Public Workshop for the Route 17 Planning and Environment Linkages Study.
About this event
Get Involved
NYSDOT would like your feedback during the development of the Route 17 PEL Study.
Join us at our first virtual public workshop to:
Learn about existing planning, traffic, highway, structure and environmental conditions
Provide input on the vision, goals, and objectives for the study
Contribute thoughts on corridor needs
Explore the PEL process
About the PEL Study
The Route 17 Planning and Environment Linkages Study (PEL) is being initiated by New York State Department of Transportation (NYSDOT), in cooperation with the Federal Highway Administration (FHWA). This study will evaluate the engineering feasibility and potential environmental impacts of reasonable alternatives to address the corridor's transportation needs brought about by current and anticipated growth in the region.
Visit the project website for more details at https://www.dot.ny.gov/rt17pelstudy
Accessibility
NYSDOT complies with the Americans with Disabilities Act and federal Limited English Proficiency guidelines. If you require special accommodations or interpretation services to participate in this workshop, please contact (518) 732-6302 by March 12, 2021.
Details
The workshop will be held on Microsoft Teams Meetings and use the platform PollEverywhere to gather feedback from attendees during the meeting. We suggest that you use the Google Chrome browser to join the meeting. You can download Chrome here.