Ginger Barber Interior Design & Paul Michael Company Invite You to Attend Roundup at Round Top benefiting Habitat for Horses!
About this event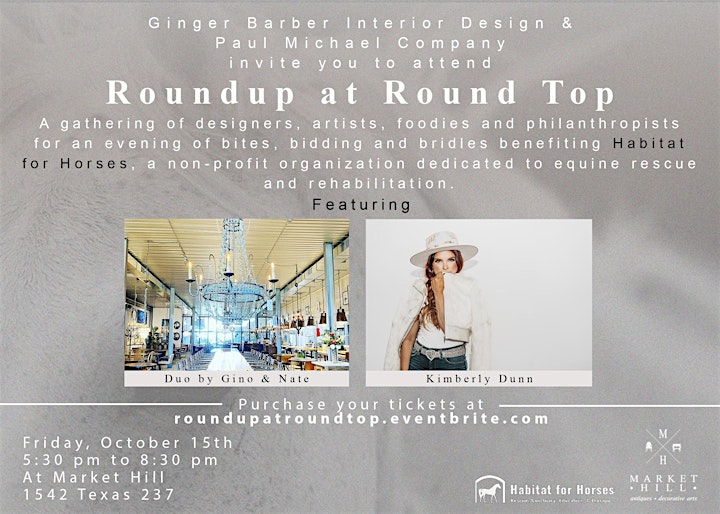 A gathering of designers, artists, foodies and philanthropists for an evening of bites, bidding and bridles benefiting Habitat for Horses, a non-profit organization dedicated to equine rescue and rehabilitation.
Enjoy an evening of live entertainment from Kimberly Dunn, a globally influenced dinner and open bar hosted by Market Hill's acclaimed restaurant Duo by Gino and Nate, and a Private Antique Show Preview with Market Hill's premier mix of vendors, including:
Paul Michael Company
Recoop
Scovill Brown
Renouveau
Smith Van Osdelle
Elephant Walk Antiques
Antica
Sacred Heart
Vincent Peach
The Select Pick
The Architect's Daughter
Amelia
Schwung Home
Paul Meyer Studio
Nomadic Trading
Ables Antiques
Props Antiques
Plaid Veranda
Modern State Atelier
Susan Horne Antiques
Architectural Anarchy
Habitat for Horses is a 501(c)(3) non-profit that promotes and secures the safety, well being and health of horses by encouraging education concerning the physical and mental health of horses. The nonprofit also focuses on utilizing horses in the growth and mental health of humans, either adult or children, through education, demonstration and connection, and to study, promote, and enhance the proper training of horses through positive training techniques. Habitat for Horses actively searches and provides homes for those horses who are no longer able to be productive.
For more information, call 713.599.1271
Organizer of Roundup at Round Top