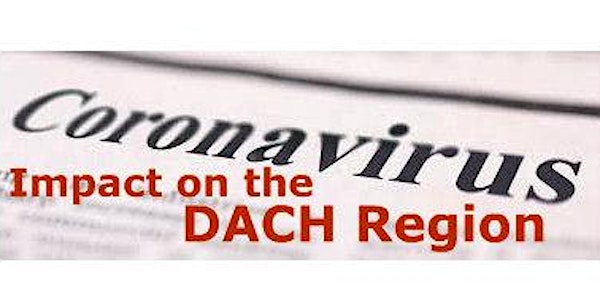 Roundtable: The impact of COVID-19 on the DACH Region
Impact of COVID 19 on the DACH Region
About this event
Moderated by Anaëlle Weber, GSAS '17, Harvard entrepreneurs Katrin Alberding, Iris Braun and Stefan Wisbauer will share their views on the effects the coronavirus has had on their businesses and how they have been coping.
Katrin Alberding, MBA '11
Katrin has been in the start-up world since 2013. In 2019, she co-founded Herzsache a Berlin based outpatient care company driven by technology and human centred approach. Previously, she spent 6 months volunteering in Latin America, and held business positions in finance at Citi in London and Tokyo, at BCG in New York, and most recently led marketing and business design at a Zurich based Fintech start-up. Originally from Germany, Katrin has lived and worked abroad for 17+ years in Europe, Asia, the USA and Latin America. She holds a Master from the University of St. Andrews and an MBA from Harvard.
Iris Braun, MPA '15
Iris Braun is one of the founders of ​share​, a social consumer goods brand based on the 1+1 concept: For every share product sold, a person in need receives an equivalent product.
She has created the products and projects with share's social partners before now leading the international business for share. Braun started her career at the Boston Consulting Group where she worked on strategy for consumer goods companies as well as for the United Nations World Food Programme. She then was a researcher on various development projects, doing social impact evaluations. Her work led her to Rwanda, Bangladesh and India, where she also lived for several years. Iris holds an MPA from Harvard University in Development Economics and a BA from Oxford University in Philosophy, Politics and Economics.
Stefan Wisbauer, MPA '99
Stefan Wisbauer is a mathematician (Cambridge & Bonn) and Havard Kennedy School graduate (MPA). While at the World Bank in 2000 he suggested the Global Development Gateway to Jim Wolfensohn which Wolfensohn established and ran for multiple years. He worked in the CNO in Sri Lanka's president's office during the 2004 tsunami response. He now is Co-CEO at Lecturio, an online medical education company that works with professors from Brown, Hopkins, Yale, UCL and more.