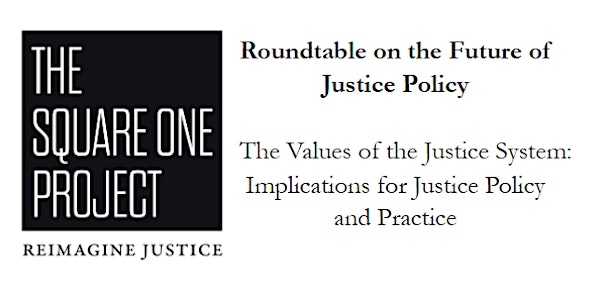 Roundtable on the Future of Justice Policy:The Values of the Justice System
The fifth and final session of the Square One Roundtable on the Future of Justice Policy (livestreamed)
About this event
The Square One Project and the participants in the Roundtable on the Future of Justice Policy invite you to join us in asking, What are the values that should guide efforts to create safety and reduce harm? One of the themes that has emerged over the course of the Square One Project, and that we see emerging in our broader societal and cultural conversation, is that a different future for justice policy must be guided by a clear articulation of the values it should be built upon and uphold.
Featuring the voices of advocates, researchers, practitioners, faith leaders, and many more from around the country, we will focus on identifying the values that provide our framework for justice, grappling with how they relate to racial reckoning, and examining the questions, opportunities, challenges, and ultimately the future such clarity about these values might bring.
The Roundtable on the Future of Justice Policy will take place via livestream over the course of three weeks in April. During the Roundtable Sessions, Roundtable participants will hear a brief presentation and/or panel discussion from their peers followed by group discussions and/or breakouts.
There will be an opportunity for commentary and questions from the live audience during each of the Roundtable sessions, as well as during the Evening Keynote on Thursday, April 22nd.
Agenda
April 15, 5-7pm ET - Introductory Evening Gathering
April 16, 12-6pm ET - Roundtable Session 1 on The Role of Values, and Roundtable Session 2 on The Values of Justice
April 22, 5-7:30pm ET - Keynote Evening Gathering: Featuring Marlon Peterson and Daryl Atkinson in a conversation on reckoning with the Justice System
April 23, 12-6pm ET - Roundtable Session 3 on The Irreducible Minimum and Abolition, and Roundtable Session 4 on Operationalizing the Values of Justice: The Guiding Principles
April 30, 12-6pm ET - Roundtable Session 5 on Justice in New York, and Roundtable Session 6 on Aspirations for the Values of Justice
REGISTER NOW TO ATTEND VIA LIVESTREAM.
Visit our website to view the full agenda, participant bios, and read the Roundtable papers.
Questions? Please contact Sukyi McMahon, Manager of the Roundtable, at 512-350-7067 or sukyi.mcmahon@columbia.edu.
-------------------------
The Roundtable on the Future of Justice Policy is a key component of the Justice Lab's Square One Project. Square One is focused on conducting a foundational reevaluation of justice policy in this country – moving toward expanding opportunity, improving public safety in local communities, and reducing reliance on punishment as a response to social problems that are so often rooted in poverty, violence, and racial discrimination.
The beauty and success of Square One is that we bring together many voices and partners to examine what it would mean to reduce reliance on punishment as a response to social problems, and to generate new ideas about what might happen instead.
We believe in forging strong relationships between our incredibly diverse participants while addressing the challenge of COVID-19 by hosting this event virtually. We equally value audience engagement in "square one" thinking and narrative building around reimagining justice. In addition to being livestreamed, each of these sessions will be recorded and shared following the event, and we will keep you updated as these videos are released on our YouTube Channel.
-------------------------
This session of the Roundtable on the Future of Justice Policy is made possible through the generous support of the J.C. Flowers Foundation.