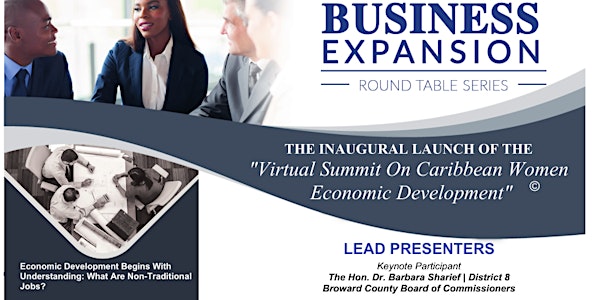 Round Table Open Forum On Summit on Caribbean Women Economic Development
Round Table Open Forum To Plan Summit Agenda - Scheduled May 17-18, 2021 The Open Forum/Discussion Is To Set The Summit Agenda
About this event
"Income inequality in the Caribbean remains high, despite significant progress the region has made in reducing poverty over the past few years. The International Finance Corporation (IFC) [World Bank Group] works to foster inclusive growth, boost innovation, and strengthen regional integration."
"Building Parity By Exploring Non-Traditional & High-Growth Industries"
The Key Participants : The Hon. Dr. Barbara Sharief; Mr. Desmond Alufohai; Sharon Reid Grannum , President of Corporate Strategists Corporation
Primary Industry Awareness Contributors:
Dr. Winston Thompson | Ms. Patricia Brown | Mr. Drew Shiner | Mr. Delroy Tomlinson | Dr. Eileen Davis-Jerome of the United Nations Association | Mr. Anthony George | . . . . And The List Keeps Growing . . .
The Virtual Round Table Open Forum is aimed toward hearing thoughts from attendees, expressed invitation to every governmental and non-governmental organization with interests to address income equality for women in the Caribbean island-nations.
REMINDER: The Actual Virtual Summit is scheduled for May 17-18,2021 -- With Contributors From The Various Public and Private Sectors.
ROUND TABLE FORUM AGENDA -- The Virtual Round Table is an agenda exploration tool! The discussion includes a wide array of public and private sector contributors, as well as "At-A-Glance" overviews on the United Nations, USAID, IFC, World Bank, current Modules and Philanthropic funding sources that currently address "Income Inequality" and with interest to explore Non-Traditional and High-Growth industries with missions to assist improvement and parity.
Overview on colleges and universities, especially those with Women Studies Departments, and a willingness to participate in offering Concentrations in Non-Traditional and High-Growth Industries. The agenda becomes useful to organizations and companies that are able to align with the Caribbean National Strategic Plans and their established "Gender Equality Goals."
INITIATIVE ANNOUNCEMENT LAUNCH -- The announcement date commemorates International Women's Day first meeting on March 19, 1911 . . . (Read More . . . )