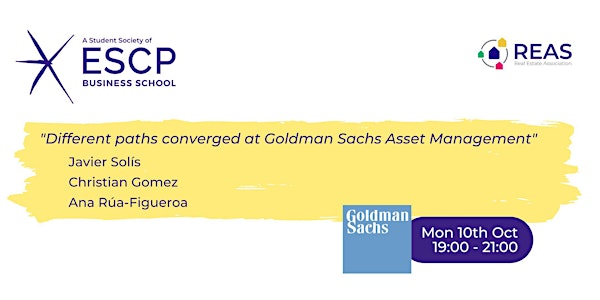 Round Table: Different paths converged at Goldman Sachs Asset Management
Different paths converged at Goldman Sachs Asset Management
About this event
REAS, the Real Estate Association of ESCP Business School, invites you to join this unique event with Goldman Sachs Asset Management. It will be a chance to listen to how the three panelists have crafted their professional career paths towards their current positions:
- Javier Solís, Managing Director and Head of Southern Europe;
- Christian Gomez Rudek, Executive Director Real Estate in London; and
- Ana Rúa-Figueroa Díaz-Caneja, Executive Director Real estate in Madrid.
The talk will last from 19:00 to 20:00 and will be followed by a cocktail from 20:00 until 21:00.
Location will be shared upon registration to the event.