Description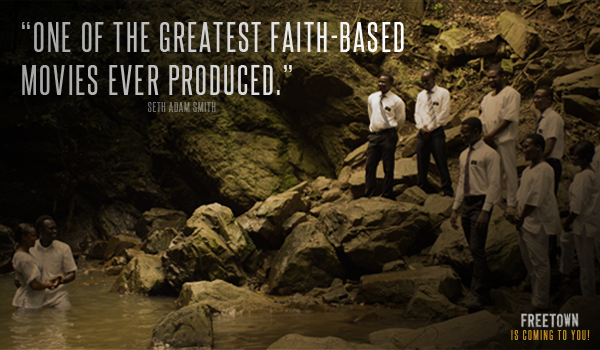 FREETOWN, the new film from writer/director Garrett Batty (The Saratov Approach) and producer Adam Abel (Saints and Soldiers) which has been grabbing headlines nationwide and opened on theaters across the country, is now spreading its reach even further. After hundreds of showings across the US, the praising reviews are coming in, and so is the demand to take the film to areas that haven't had the opportunity to see it yet. (Preview the theatrical trailer here.)
And that's where this event—your event—comes in. We want to bring the film to your city and show it at your theater.
But we can't do it without you.
In order for us to bring the film to you, our distributor must guarantee that at least 300 tickets will be sold. That's the key to booking a theater in your area. With your influence, our distributor will bring FREETOWN to you.
HERE'S WHAT YOU CAN DO:
1. RSVP for the film event in your area.
2. SHARE this event with everyone you know (work, school, church, neighborhood) and invite them to reserve their tickets for the screening.
3. TALK about the film! Share your positive reviews on iTunes, Fandango, Rotten Tomatoes, Facebook, Twitter, and Instagram. Let people know why they should demand the film in their city, too.
Right now, we anticipate showing the film at a theater in your area during the following dates:
FRIDAY MAY 22nd and SATURDAY MAY 23rd
(Dates and theater location will be subject to change based on availability,
but we will keep you informed of any changes and updates as they happen.)
Independent films happen because of individuals who come together to share something they are collectively passionate about. Likewise, opportunities like this only happen because of dedicated fans like yourself. You are, indeed, just as much a part of the FREETOWN Team as any of us. We owe you our most sincere gratitude.
Click to RSVP for two tickets to the limited engagement screenings in your area. When tickets become available, you'll be notified as to how to purchase them at the theater Box Office.