Location
Fremont Abbey Arts Center
4272 Fremont Avenue North
Seattle, WA 98103
Refund policy
Refunds up to 30 days before event
The Round (200): Elena Loper, Brittany Allyson, Ollela feat. Tyler Dobies and Emily Candela McLaughlin
About this event
*Reduced Capacity distanced show, ~20-40% capacity, HEPA filters, fresh air system, windows open, heat on, masks & vax/neg test required to enter.*
------------------
Join us January 31st @ 7p to celebrate Round 200 at Fremont Abbey Arts Center. That's 200 months in a row of collaboration & creativity here in Seattle alone!
Special 2005 level discount tickets available while supplies last! (Please support the artists more if you're able, 100% goes to artists on this show!)
Since its inception in 2005 - the Round has been a staple of Seattle's creative community, bringing people together across disciplines to co-create a truly unique, collaborative experience. Each Round is a new creation. The Round encourages connectivity in all who pass through its doors.
Through the years – The Round has persisted despite whatever obstacles life has in store – with Round 200 being no exception. We are so grateful to all everyone who has been a part of this series, and look forward to new collaborations in the years to come. The Round has also been held in many other cities including Portland, Austin, Anacortes WA, Vashon Is, Lebanon PA, and more.
MUSIC, SPOKEN WORD POETRY, LIVE VISUAL ART
Cozy and intimate, this listener-oriented event brings together songwriters, a poet and a live painter or other visual artist come together to create an experience totally unique.
Artist Lineup:
Elena Loper, originally from Los Angeles, is a songwriter, vocalist, and guitarist in Seattle, WA. Elena Loper's honeyed vocals and intricate finger-style guitar create craft intimate compositions full of grace and elegant introspection.
Elena Loper plays in an alt-folk duo with Cooper Stoulil called Dravus House. In Dravus House's music, Loper's vocals, songwriting, and guitar playing weave together with Stoulil's emotive electric guitar picking in the style of folk duos such as Gillian Welch/David Rawlings, the Weepies, and the Milk Carton Kids. Their sound is also influenced by Irish and American folk music and 20th century icons such as Joni Mitchell and Nick Drake, along with 90s alternative rock such as The Innocence Mission. According to sound engineer Johnny Bregar, "Loper's unique melodic sensibility is reminiscent of Joni Mitchell and trans-Atlantic modality".
Loper released her debut album with Dravus House in February 2019 at the Fremont Abbey in Seattle. The album was premiered digitally by The Bluegrass Situation, an international music blog for alternative and roots music.
Loper's project Dravus House has played shows in and around Seattle at The Triple Door's main stage, The Fremont Abbey, The Tractor, The Ballard Homestead, Chop Suey, The Sunset, Barboza, and Doe Bay. Dravus House was also featured at Chop Suey as part of "Cheap Date," a night curated by Noah Gundersen. In November 2018, Dravus house was a featured artist at Concerts at the Barn in Kingston, WA.
After releasing their album in 2019, they toured the Pacific Northwest, playing shows in Portland (OR), Ashland (OR), Bellingham (WA), Snoqualmie (WA), Port Townsend (WA), Chimacum (WA), and B.C. (CAN), as well as several Seattle shows upon their return.
Dravus House played a summer tour in Los Angeles and the Central CA coast, plaing at El Cid and The Other Door in Hollywood/Silverlake, as well as in San Luis Obispo and the Arts District in Downtown LA. Dravus House has been featured by music journalism outlets including Buzz Music (LA, CA) Parke Ave (Seattle), The Stranger (Seattle, WA), Chill Filtr (Ashland, OR), Ballard Vox (Seattle), and Dan's Tunes (Seattle). Dravus House performed two songs on television on the Seattle Channel's show Art Zone with Nancy Guppy in October of 2019.
Loper writes and performs original music in the style of Irish and American folk traditions. Elena's music is inspired by Joni Mitchell, Rufus Wainwright, Mumford & Sons, Karan Casey, and Solas. Elena graduated from UCLA in June 2015 with a degree in music. She has studied classical voice, as well as singing traditions in the Irish language. Elena performs an eclectic array of musical styles, from Irish Sean-Nós (Irish traditional and folk music) to baroque, classical, jazz, and musical theater.
She has performed at venues throughout Los Angeles, including the Walt Disney Concert Hall, UCLA's Royce Hall, Villain's Tavern, The Wilde Thistle, The Mint, and Finn McCool's.
Elena Loper's solo music is recommended if you like: Joni Mitchell, Karan Casey, Sam Beam, Adrianne Lenker, Anias Mitchell, Courtney Marie Andrews, Ani DiFranco, and Sufjan Stevens.
With a voice to silence the chaos and pull you into the present moment, Seattle Singer/Songwriter Brittany Allyson bares her soul with each note sung and intentional lyric written. Inspired by the playful, golden tones of Ella Fitzgerald and Barbra Streisand and influenced by the nuanced storytelling of Joni Mitchell, Britt says her songs intuitively come to her along her personal (and never-ending) journey of self-empowerment. She hopes the musical messages she shares serve and encourage you while celebrating the joy that is music.
Ollella's career as a musician started early, when she sang before she could talk. Trained as a classical cellist since the age of nine, she blends her technical background with authoritative vocals, live-looping, and improvisation. Pulling on inspiration from female powerhouses such as Florence + the Machine, Fiona Apple, and Lorde, she works to blend the acoustic with the contemporary, folk with pop, tenacity with softness. Her playing has been featured in films screened at Film Festivals such as Sundance and Aspen Film Fest; on recordings with others, including Grammy-winning artist Peter Kater; and has shared stages with popular Americana acts such as the Shook Twins and Rising Appalachia.
Tyler Dobies (he/him) is a theatre-maker based in NYC.
With roots in Pacific Northwest, Tyler holds a BFA in Acting/Directing from Pacific Lutheran University in Tacoma, WA, and an MM in Vocal Performance: Music Theatre from New York University. Tyler most recently premiered his solo show "The Role of Other" at Theatre Crude Fringe Festival in Oklahoma City, OK, in October 2021.
As a spoken word poet, Tyler was a part of Abbey Arts 2018 NEXT STAGE program led by Matt Gano in Seattle, WA. Culminating his experience at the Abbey, Tyler collaborated with poet and visual artist Allison Morton on a series of poems dismantling the idea of "archetypes" to uncover the humanity behind them.
As a writer-performer, Tyler has developed, written, and performed three original one-person shows examining themes of identity, otherness, compassion, and collective responsibility, one of which was created during his tenure with the 2017 Intiman Emerging Artist Program in Seattle, WA, under the mentorship of Sara Porkalob.
Emily Candela McLaughlin paints, assembles, sews and builds blends of ideas and symbols. Mythologies and permutations of our collective dreams and cultural references surface across the mixed media of her work. She finds the cloudy greys of skies, streets, and water of her native Seattle liminal and suggestive of transformations.
Her work exists in public space as murals, and has been part of art installations, gallery exhibits, digital displays and art fairs in Seattle and local areas, New York City, Art Basel Miami, and won commendations in international competitions. Some pieces have been projected onto buildings in Long Island City and Times Square, NY, within art events and outdoor sculpture event installations.
@ Fremont Abbey Arts Center
6:30p doors, 7-9p show
All ages, BAR W ID
PG-13 (some content may not be suitable for young audiences)
Reserved Tables available
Some complimentary snacks and appetizers will be provided at the show. Cash bar.
Seated show, quiet picnics/outside food welcome. No outside drinks allowed.
No one turned away for lack of funds
---------------------------------------------------
See updated COVID Safety Info at the bottom of this page under Abbey Arts Presents
Thanks for helping keep our community safe!
---------------------------------------------------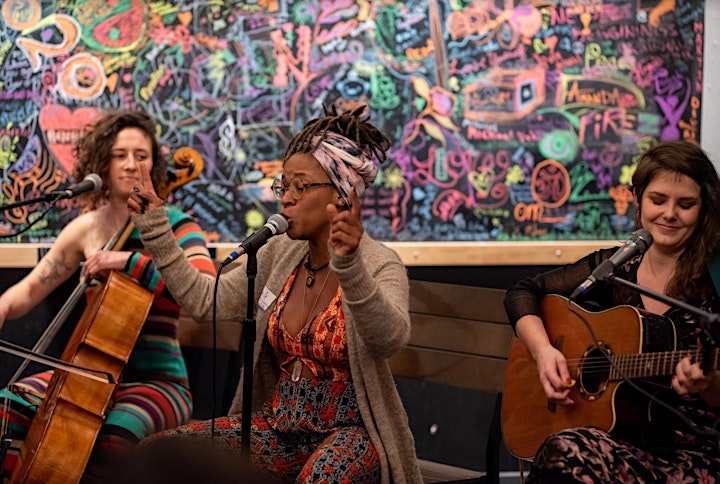 --------------------------------------------------------------------------
THE ROUND
has been held live in Seattle, WA (USA) every month for 200 months in a row and features local and touring artists
Music | Poetry | Visual | Collaboration
Songwriters/bands sharing their music, alternating with a poet,+ visual artists creating live.
All together to create a unique evening of high quality & collaborative arts.
www.abbeypresents.org and www.theround.org for more 
--------------------------------------------------------------------------
ABBEY ARTS EVENT INFO:
Fremont Abbey is ADA accessible on either level.
We have a mix of normal chairs, some tall chairs, and standing room in back.
Seating is not reserved unless noted.
Please refrain from talking during the show.
No video from the seating area please.
Even in the standing area, please limit photos & video during the show so as to not distract other attendees from the experience.
We are an all ages venue. Kids 10 & under are free at Abbey Arts concerts & arts events unless noted.
Entering the venue indicates agreement to adhere to the Abbey Respect Policy. All are welcome.
No outside alcohol or drinks allowed. Quiet picnics/food ok.
--------------------------------------------------------------------------
ABOUT ABBEY ARTS, SEATTLE:
NONPROFIT 501C3, NON-RELIGIOUS, EST. 2005
Presenting welcoming music, arts & cultural experiences for people of all ages & incomes.
Home Venue: Fremont Abbey, 4272 Fremont Ave North, Seattle, WA 98103 / 206-414-8325 Ballard Homestead: 6541 Jones Ave NW, Seattle | + UHeights Auditorium, St Mark's Cathedral, & more