The Round (199): Beasley, Devon Dodgson, Noble Monyei (Dearly Departed), poet Devonnie Black, live painter Paul Nunn
About this event
MUSIC, SPOKEN WORD POETRY, LIVE VISUAL ART
Cozy and intimate, this listener-oriented event brings together songwriters, a poet and a live painter or other visual artist come together to create an experience totally unique.
Leading with honest lyrics and emotive vocal delivery, Devon's songwriting is marked by vulnerability. Her music explores themes of love, heartache, loss, and home, writing from experiences using songwriting as a safe space for reflection and processing emotions. A trained music therapist, Devon writes and performs with the belief in music's ability to promote healing through connection, expression, and truth telling. She has been active in Seattle's music scene since moving to the area in 2013.
Devon's most recent body of work is a collection of Field Recordings, filmed and released through 2021 in which she spent the first several months of the year hunkered down in her hometown of Kansas City embracing a new opportunities in family life while waiting for the COVID-19 vaccine. Devon regularly packed up a microphone, guitar, and iPhone, and set out into the woods behind her childhood home to record live takes of song performances while capturing video footage of her surroundings.
Devon released a full length album titled Tapestry in December of 2019. The record explores themes around marriage and partnership; a progression of love as two individuals mature through acts of intimacy, shared sorrow, and companionship. Tapestry provided Devon the learning opportunity to record, mix, and master the album on her own.
In addition to her solo project, Devon is a member of DATENITE, a female-fronted, dream-synth band where she contributes vocal harmonies, electric guitar, keys, and songwriting.
Noble Monyei is a Seattle based by singer/songwriter. Along with writing and performing in the band Dearly Departed, he produces electronic music under the moniker of Bach Cinco. He also works full time in music education. In the spirit of his Nigerian American heritage, his music blends rock and roll, blues, Nigerian pop/folk, hip hop and Americana. The music is very lyrical, focusing on dynamic vocal melodies and rhythms to drive the songs towards the listener's ears.
Pointedly critical yet hopeful, Beasley writes songs that offer a strong melody, a biting criticism, and a chorus you'll find yourself humming which calls the listener to live more honestly hopeful.
Simply put, Devonnie Black is a 31 year old storyteller. No matter the medium, Devonnie's main goal is to document and share her life experiences with the world. Her love for writing and poetry started at eight years old and continues to blossom every year. You can purchase her debut poetry collection, "The Sun Never Needed Time" on Amazon.
When Devonnie isn't writing or performing, she finds inspiration from her new role as Mama to her beautiful baby boy, Dion.
You can also catch Devonnie showcasing her first love, cooking, as a contestant on FOX's new cooking competition, Next Level Chef which airs on January 2.
Follow her on Instagram and twitter to stay up to date at @devonnieblack on both platforms.
Paul has a fascination with vision and revision. Op Art and play with forced perspective allows viewers a chance at a magic moment when in the right place at the right time. On a quest to create sometime more than the human eye can detect, you may find yourself hypnotized even before looking the through a different lens.
Paul Nunn is a lifelong Washingtonian who has been making art since before he knew he was making art. You might find him around Seattle coordinating a public art project for Urban ArtWorks or hiding out in his Pioneer Square art studio. Paul studied painting and printmaking at Washington State and holds an MFA in Arts Leadership from Seattle University. He has been drawing a lot of circles recently.
@ Fremont Abbey Arts Center
7p doors, 7:30p show
All ages, BAR W ID
PG-13 (some content may not be suitable for young audiences)
Seated show, quiet picnics/outside food welcome. No outside drinks allowed.
No one turned away for lack of funds
---------------------------------------------------
See updated COVID Safety Info at the bottom of this page under Abbey Arts Presents
Thanks for helping keep our community safe!
---------------------------------------------------
--------------------------------------------------------------------------
THE ROUND
has been held live in Seattle, WA (USA) every month for 198 months in a row and features local and touring artists
Music | Poetry | Visual | Collaboration
Songwriters/bands sharing their music, alternating with a poet,+ visual artists creating live.
All together to create a unique evening of high quality & collaborative arts.
www.abbeypresents.org and www.theround.org for more 
--------------------------------------------------------------------------
ABBEY ARTS EVENT INFO:
Fremont Abbey is ADA accessible on either level.
We have a mix of normal chairs, some tall chairs, and standing room in back.
Seating is not reserved unless noted.
Please refrain from talking during the show.
No video from the seating area please.
Even in the standing area, please limit photos & video during the show so as to not distract other attendees from the experience.
We are an all ages venue. Kids 10 & under are free at Abbey Arts concerts & arts events unless noted.
Entering the venue indicates agreement to adhere to the Abbey Respect Policy. All are welcome.
No outside alcohol or drinks allowed. Quiet picnics/food ok.
--------------------------------------------------------------------------
ABOUT ABBEY ARTS, SEATTLE:
NONPROFIT 501C3, NON-RELIGIOUS, EST. 2005
Presenting welcoming music, arts & cultural experiences for people of all ages & incomes.
Home Venue: Fremont Abbey, 4272 Fremont Ave North, Seattle, WA 98103 / 206-414-8325 Ballard Homestead: 6541 Jones Ave NW, Seattle | + UHeights Auditorium, St Mark's Cathedral, & more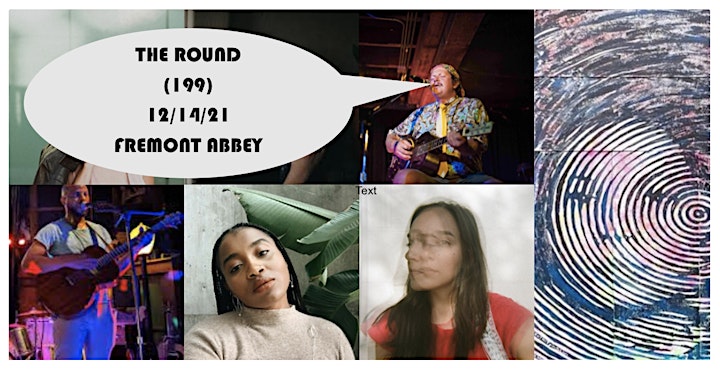 Organizer of Round 199: Beasley, Devon Dodgson, Noble Monyei, Devonnie Black, Paul Nunn
COVID Public Health Safety Info:
As of December, 2021
Welcome back Abbey Arts family!
As we reopen the doors to our venues, rest assured that we will be welcoming our patrons back in to an environment that prioritizes health and wellness. We are working with local officials to ensure current health and safety protocols are in place at Abbey Arts events, while being mindful that flexibility will be required as those guidelines will likely continue to evolve. Obviously with COVID-19 not being completely eradicated, we'll have to change some things around here as we go. Please consult the state's guidelines for the most up-to-date information.
IMPORTANT INFO
There is a statewide mask mandate for requiring masks for ALL patrons indoors REGARDLESS of vaccine status. More information from the State of Washington can be found here.
Starting 7/30/21 We are now requiring a government issued photo ID* and PROOF OF VACCINATION or a NEGATIVE COVID-19 PCR test result within 72 hours prior to the event to be allowed to enter the building. Find a testing center here. Please note that test results may take 24-48 hours. Please plan accordingly.
Full vaccination is defined as having received a final vaccination dose at least two weeks prior to the event date.
The name on your vaccination card or COVID test MUST match your state ID
Acceptable forms of proof of vaccination include: an official CDC COVID-19 Vaccination Record Card or a picture of your vaccination card; a digital or printed WA State Certificate of COVID-19 Vaccination; a WA State Immunization Information System printout; or a verified medical record printout from a medical provider.
*In addition to providing proof of vaccination or a negative PCR test, guests 18 or older must present a government-issued photo ID, such as a driver's license or passport. Guests younger than 18 may present a government-issued photo ID or a school photo ID as an alternative. Guests younger than 18 who do not have either a government-issued ID or school photo ID can only attend performances in the company of an adult who provides the required ID and vaccine documentation for themselves and can also provide documentation for the minor's test results or vaccination verification.

All employees are fully vaccinated and are required to wear masks indoors.
We are operating at mid capacity to allow more space and smaller crowds.
We have increased hand sanitizing stations around the venues. We encourage you to regularly sanitize and fully wash hands when you use the restroom.
NEED TO GET TESTED?
Find a location near you at:
https://www.doh.wa.gov/Emergencies/COVID19/TestingforCOVID19
****
NOT FEELING WELL?
Please do not enter the venue if you have a fever, are feeling sick, or displaying any symptoms of COVID-19, flu, cold or other transmissible diseases. Better yet, stay home, rest up, take care of yourselves and reduce the chance of getting others sick. If you've purchased a ticket to an upcoming show but come down with symptoms, please open your Eventbrite account and you can request a refund for a health related reason through Eventbrite system. We'd be happy to oblige, no questions asked. No refunds given after the event. Thanks!
HOW ABOUT MASKS?
Masks are currently required while indoors regardless of vaccine status. You may remove your mask while actively consuming a beverage, but we ask that you reapply your mask and continue to wear it throughout the performance.
****
By entering the Venue, you and the members of your group voluntarily assume the risks of contracting COVID-19 and agree to release, waive, discharge and covenant not to sue any Artist performing or Abbey employee or company (including their owners, officers, employees, volunteers, agents and the City of Seattle), and hold these entities and persons harmless from liability regarding any and all claims relating to COVID-19 and indirectly or directly arising out of or relating to the Venue or event.
****
Thanks for your ongoing cooperation and support and for helping us keep live music LIVE!
Individual events may have additional safety measures in place, see Ticketing pages for details.
No refunds if ticket buyer is unable to show proof of vaccine or negative test verification.
-----------------------
ABBEY ARTS, SEATTLE:
NONPROFIT 501C3, NON-RELIGIOUS, EST. 2005
Fremont Abbey | Ballard Homestead | South Park Hall | St Mark's Capitol Hill | The Auditorium @ UHeights |  & more
Independent nonprofit, non-religious, all ages/incomes. 
Low Fee Tickets! No hidden high fees like Ticktmstr. :-)
  (Note: Comedy shows may have different ticketing fees)
[ Click here to subscribe to our optional text messages. ]
[The views and opinions expressed at events are those of the artists and performers and do not necessarily reflect Abbey Arts. About Page | Respect Policy.]
Refunds may be available per event settings.
No refunds due to support act changes.
Tickets for rental events may be via their website.