Description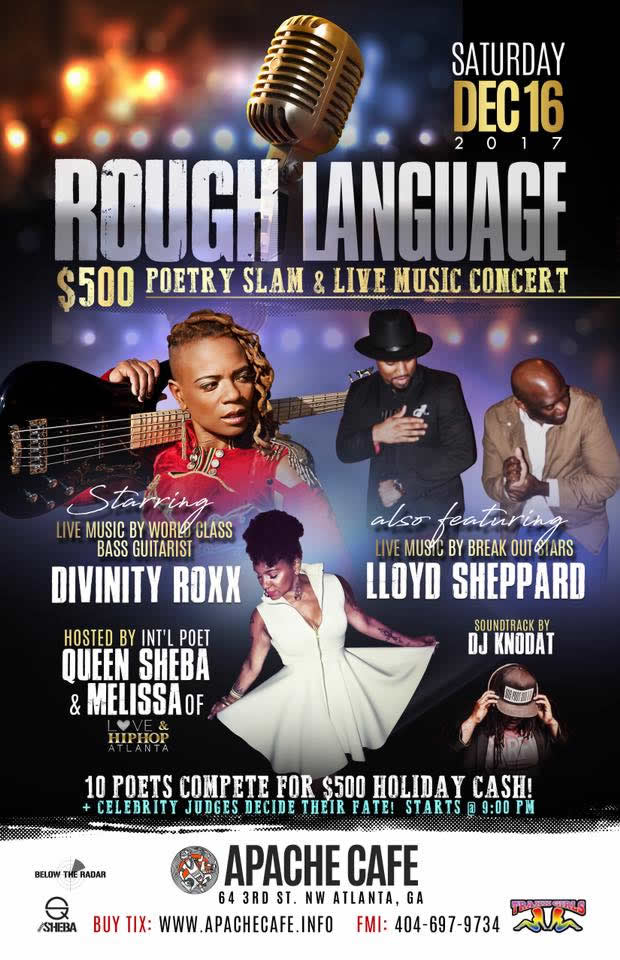 Hosted by the homies:
Int'l Poet Queen Sheba & Melissa of Love & Hip-Hop ATL!

They've created a cool-ass date night/hang out for you and all your friends where 10 Poets compete for
$500 Holiday CASH!
+ celebrity judges decide their fate!

also featuring live music by break-out stars Lloyd Sheppard

Soundtrack by Dj Knodat

@Apache Cafe 64 3rd St.
ATL 30308
Doors 9P|Show 9:30P SHARP


*DIVINITY ROXX PERFORMS AT 10P! It's great to be in concert back home, can't wait to see you all there!


FMI: 404-697-9734 TEXT ONLY!

Follow: @thequeensheba @djknodat @dagreatdjm @divinityroxx

#poetryslam #roughlanguagepoetryslam #roughlanguageholidayslam #trappoetry #datenight #concert #livemusic #apachecafe #midtownatlanta #midtownconcertseries #concertseries #thequeensheba #djknodat #loveandhiphopofficial #loveandhiphop #loveandhiphopatl #onepoetandadj