Join us for a beautiful night of dinner, drinks and music on the water.
About this event
Join us for a beautiful night of dinner (tri-tip & chicken), drinks and music on the water. We will be celebrating leadership in our community and supporting the SHARE community truck fundraiser. Having FUN and making a DIFFERENCE is what we're all about. Let's get out, make some memories and have a good time in the name of service. Tickets will sell out FAST as seats are limited and in high-demand so don't delay or you'll miss out.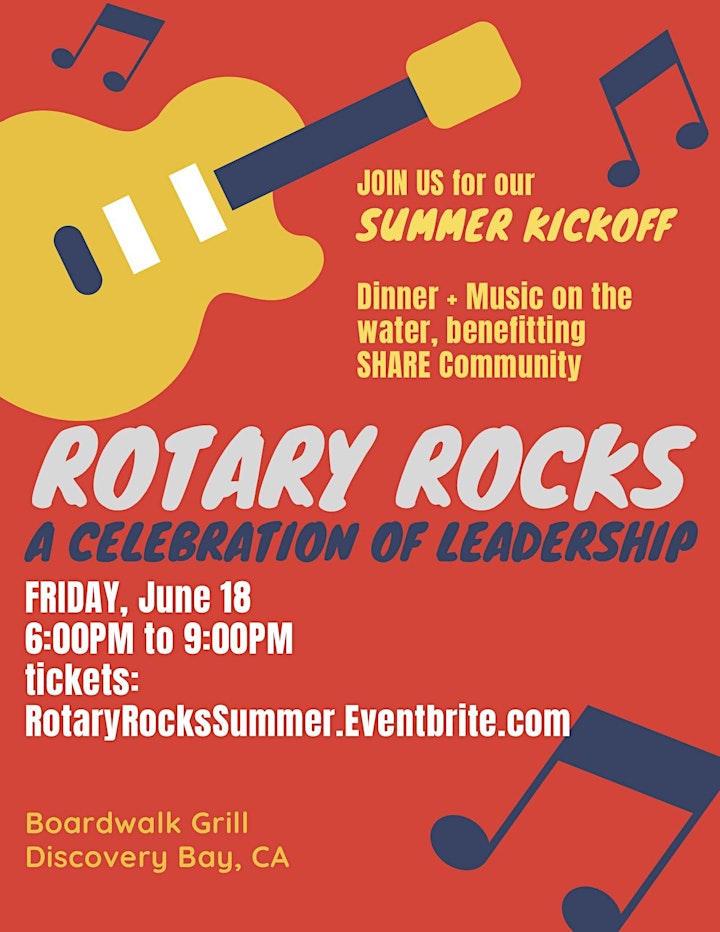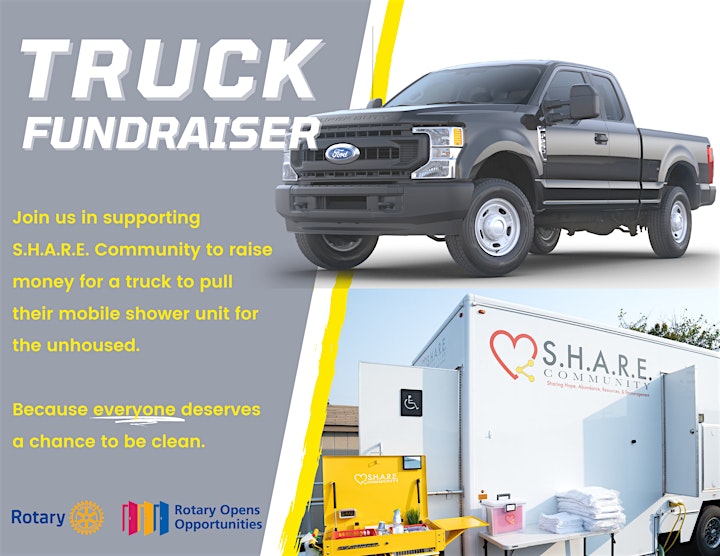 Organizer of Rotary Rocks Summer Kickoff
Rotary is a global network of 1.2 million neighbors, friends, leaders, and problem-solvers who come together to make positive, lasting change in communities at home and abroad.
Solving real problems takes real commitment and vision. Our Rotary Club has been helping improve the local community here in Brentwood since 1949.
We work with our global network of Rotary members around the world to take action on sustainable projects. From literacy and peace to water and health, we are always working to better our world, and we stay committed to the end.
We work with other local non-profits such as the Village Community Resource Center to personally ensure that the funds that we raise go directly to under-served children and families in Brentwood, Oakley, Byron and Knightsen. One of our most meaningful annual service projects is taking local children, that have limited resources, back-to-school shopping at Kohl's with $150 gift cards and breakfast as described here http://www.thepress.net/features/kohl-s-cares-rotary-club-of-brentwood-rocks/article_c8e53b16-536f-11e6-a4a9-afb4f41b8686.html On any given day teams of volunteers serve pancake breakfasts and hot dogs & hamburger meals, prepared on our two mobile commercial grills, at local public schools and nonprofit organization events. We are not a networking group or a social club, but a service organization working with a "Service Above Self" tagline. Our members are continually engaged in outreach to the local community. We also serve our planet and humanity globally by supporting such projects as providing clear drinking water and distributing wheelchairs in third world countries, and providing disaster relief. Rotarian volunteers have immunized more than 2.5 billion children against polio in 122 countries. Join us in making a difference!
We meet almost every Monday at noon at the Wedgewood Banquet Center on 100 Summerset Drive, Brentwood, CA 94513, USA. Be our guest at our next meeting by contacting us for more info at 1-888-556-0083.