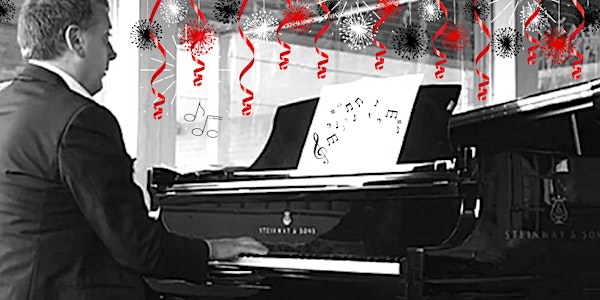 RoSMF 2020 SILENT AUCTION + HOLIDAY BENEFIT CONCERT
Virtual Holiday Benefit Concert & Silent Auction
About this event
Rites of Spring 2020 SILENT AUCTION + HOLIDAY BENEFIT CONCERT
Registration for the virtual concert is free through Eventbrite. Please make a reservation on Eventbrite and you will receive the concert link before December 19 at 5:00pm.
HOLIDAY BENEFIT CONCERT
Rites of Spring Music Festival is keeping the music going with a virtual holiday benefit concert on Saturday, December 19, 2020 at 5 p.m. Classical music favorites and Christmas classics will be performed by Rites of Spring Music Festival founder, artistic director, and pianist Paolo Bartolani and soprano Ashley Galvani Bell.
You are invited to participate virtually at the holiday special concert by making a free reservation here, on Eventbrite. A concert link will be emailed to you.
The event is free, though donations are greatly appreciated and can be made at https://rosmf.betterworld.org/campaigns/donate
"We are so grateful for, moved and inspired by the tremendous outpouring of support and contributions to our auction campaign," shares Bartolani. "It's no secret how challenging this year has been for everyone and, like many other organizations, we've had to adapt. Thank you to all of you for helping keep the arts alive and the music going."
Music Program:
Antonin Dvořák - Song to the Moon from "Rusalka"
Giacomo Puccini - Quando men vo from "Boheme"
Lucy Simon - How Could I Ever Know from The Secret Garden
Leo Delibes - Les Filles de Cadix
Caccini arr. Vavilov - Ave Maria
Have Yourself a Merry Little Christmas
Oh Holy Night
Ashley Galvani Bell, soprano
Paolo Bartolani, piano
RITES OF SPRING 2020 SILENT AUCTION FUNDRAISER.
Across the east end students, educators, and guest artists convene for the Rites of Music Classical Music Festival to perform for local and visiting concertgoers. Rites of Spring has quickly become the premier classical and contemporary music festival beginning, and now expanding beyond the North Fork of Long Island. Devoted to contemporary sounds in a setting that engages the community and invites the listener to participate on many levels. We believe great music works best in a unique environment.
We also feature an online silent auction to support the organization's mission to involve, enrich and inspire the community and audiences by providing exceptional classical and contemporary music events.
Local businesses have contributed with food and wine, goods, experiences, educational opportunities, arts, and more for the silent auction, which can be found at https://rosmf.betterworld.org/
Bidding ends December 20th, 2020.
Hailed by OPERA NEWS as "delightful", Ashley Galvani Bell has been performing from an early age, starting at age 9 as a member of the Metropolitan Opera Children's Chorus and making her Off-Broadway debut at 16 in the world premiere of the musical The Golden Touch. Ms. Bell has since performed as a soloist in the United States, Italy, Spain, France and Russia. Most recently, she made her debut at CARNEGIE HALL singing the soprano soloists in both Hadyn's Nelson Mass and Schubert's Mass in C, debuted Mimi with both Mississippi Opera and Natchez Festival, debuted as the title role in Madama Butterfly with Townsend Opera in California, performed Elle in a critically acclaimed production of La Voix Humaine in Spain and NY, sang Donna Anna in a sold-out performance of Don Giovanni at Bay Street Theatre, and made her debut with New York City Opera singing Giovanetta and covering Fiora in Montemezzi's L'Amore Tre Re.
Paolo Bartolani, pianist, founder and artistic director of Rites of Spring Music Fest
Paolo Bartolani is a pianist, musicologist and music manager, working in both classical and contemporary music. He graduated in 1989 from the Santa Cecilia Music Conservatory in Rome (Italy). He studied with Eduardo Hubert, and after graduation, with Charles Rosen, György Sándor and Andor Foldes. He also studied French piano repertoire with Germaine Mounier at the Ecole Normale de Musique in Paris. In 1994, he received his Master in Musicology of the 20th century degree under the direction of Hugues Dufourt at the École des hautes études en sciences sociales in collaboration with IRCAM / Centre Georges Pompidou in Paris. Paolo performs as a soloist and also as a member of chamber ensembles in Europe and United States.
He writes articles for the musicology journals Sonus-Materials for Contemporary Music and Music/Reality. In 2006, he created a Masters Degree Program in Cultural Enterprise Administration at the University of Perugia, where he also teaches.
At the Venice Biennale, from 2008 to 2012, Paolo was the General Coordinator of ENPARTS - European Network of Performing Arts, which promotes the creation of new works in dance, music and theater by young artists. From 2009 to 2014 he was the Director of the Résonnance Italy, a nonprofit organization based in Switzerland, where he was responsible for its artistic and humanitarian program, "bringing music to places where it is not heard." The members of the organization – singers, instrumentalists, conductors – have performed more than two hundred concerts in hospitals, nursing homes and prisons in order to promote musical sensibilities and share the joy of music.
He has been the General Coordinator of Music Up Close Network at Santa Cecilia National Academy in Rome. The Network includes seven European orchestras who promote new orchestral works and support a new generation of musicians to connect with young audiences.
He founded the Rites of Spring Music Fest in 2016 to promote classical and contemporary music on the North Fork of Long Island, and to combine music, history and the natural environment. The Festival currently is a non-profit organization 501c3 and he is the Artistic Director and Responsible for developing the Festival's program.
Founded in 2016 by Paolo Bartolani, Rites of Spring Music Festival has quickly become the premier classical and contemporary music festival on the North Fork of Long Island. The festival is devoted to classical and contemporary music in a setting that engages the community and invites the listener to participate on many levels. We believe great music works best in a unique environment.