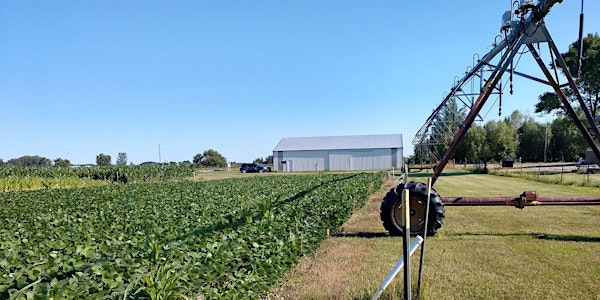 Rosholt Research Farm Field Day
Join us for a field day at the Rosholt Research Farm and learn about the current research trials on Thursday, August 19, 2021 at 9:30 a.m.
When and where
Location
910 Old Hwy 28 910 Old Highway 28 Westport, MN 56385
About this event
A great line-up of speakers has committed to participating in the event representing: University of Minnesota, University of Minnesota Extension, Minnesota Department of Agriculture, Forever Green, Agricultural Utilization Research Institute, and Pope and Stearns Soil and Water Conservation Districts.
Current research trials to be addressed during the field day include: Kernza perennial grain, nitrogen fertilizer applications, cover crop and living mulches, and irrigation water management practices.
Learn About:
-Nitrogen Management for Corn in Irrigated Sands
-Irrigation Management for Profitable Crop Production and Water Quality Protection
-Kernza: A New Perennial Grain Crop to Improve Drinking Water
-Adding Value To Kernza: An Update on AURI's Efforts to Identify Processing Methods and Early Supply Chain and Market Opportunities for Kernza in Minnesota.
Pre-registration is required. Event details can be found on Pope or Stearns Soil and Water Conservation District's (SWCD) website at www.popeswcd.org or www.stearnscountyswcd.net. Participants are encouraged to register by August 16th using the online Eventbrite link or calling 320-634-5327.
The event is organized by Pope and Stearns Soil and Water Conservation Districts and the Minnesota Department of Agriculture.
Funding for the work at Rosholt has been funded by the Minnesota Environment and Natural Resources Trust Fund as recommended by the Legislative-Citizen Commission on Minnesota Resources (LCCMR), Minnesota Department of Agriculture Agricultural Fertilizer Research and Education Council (AFREC), and the Clean Water Fund as a part of the Clean Water, Land, and Legacy Amendment. For more information visit www.lccmr.leg.mn and www.legacy.mn.gov/clean-water-fund.
For more information contact Holly Kovarik, Pope SWCD at 320-634-5327, www.popeswcd.org.