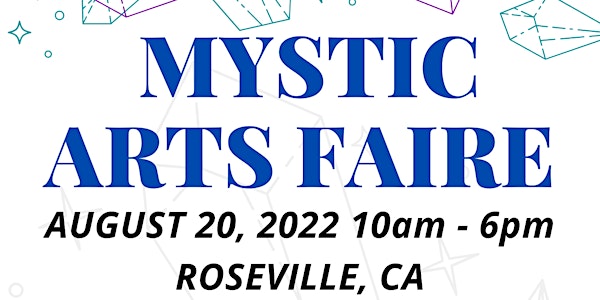 Roseville Mystic Arts Faire - Psychic and Healing Arts Fair
This is an (indoor) family friendly Mystic Arts Faire with psychics, readers, healers, crystals, shamanism, health, and all things mystical.
When and where
Location
8801 Washington Blvd 8801 Washington Boulevard suite 107 Roseville, CA 95678
About this event
Ticket Info
Tickets are FREE. Admission includes access to the exhibit hall & all speakers.
Event Info
The Roseville Mystic Arts Faire on Saturday August 20, 2022 is a Psychic, Healing, Shamanism, Health, and Wellness expo.We will have psychics, healers, crystals, mystic products, and many more vendors and speakers. Live music and food at lunchtime! Experience readings and energy healings for yourself and/or buy gift certificates for your loved ones - astrology readings, tarot readings, energy healing. Shop crystals and gemstone jewelry.
Speaker and Exhibitor Info
For a full list of speakers and exhibitors, go to https://mysticfaire.shugyocenter.com/
About Us
Hello from Shugyo Empowerment Center. We offer shamanism and other spiritual classes and events, including the Semi-Annual Mystic Arts Faire. We also have rentable space for your Meetups, classes, and events. We are proud to be a new solution and opportunity for the budding spiritual industry in the Sacramento and Roseville region and we look forward to seeing you at our center!
Buy Vendor Booths
If you'd like to be an exhibitor, visit https://mysticfaire.shugyocenter.com/book-a-booth
Questions?
If you have any questions, please call us at 916-820-7056
Links:
Facebook: https://www.facebook.com/Shugyoempowermentcenter2021