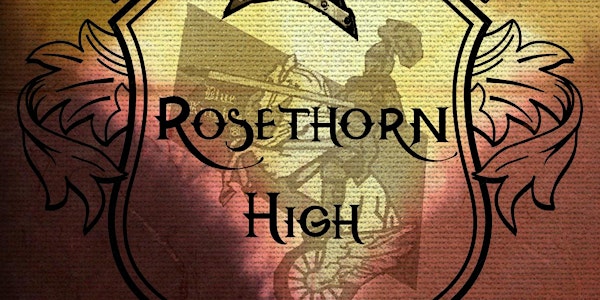 RoseThorn High - One Day Educational Event!
A one day event where you will get to choose 4 out of 12 classes to attend!
When and where
Location
Sanctuary Studios LAX 10914 S La Cienega Blvd Lennox, CA 90304
About this event
Welcome to RoseThorn High!
The High School you wish you'd gone to!
The "Kink Ladies" (tip of the hat to Grease) invite you to the one day educational event with a fun high school theme to keep it interesting!
Come out and collect your grab bag filled with goodies including your class schedule and yearbook!
Once the bell rings get your learn on with many topic choices including PE (aka hard skill classes)!
Feel free to dress casually and/or represent the era you attended high school in.
Snacks and water will be provided, but no eating in class! And throw out your gum! Pull up your pants! (ok I digress....)
We are so excited to offer this event with so many topics and variety of teachers in one place!
Check back here as it gets closer for more details!
Bunny, Jenn & Tay :)
"The Kink Ladies"
PS - there is an "after school party" after this event - GAME NIGHT & PLAY PARTY! https://fetlife.com/events/848289
**CLASSES BEING OFFERED:**
Soft Skills Classes:
Submission and anxiety- Slave Bunny
D doesn't stand for Douchbag- Jenn / lostnfound1
High Protocol-Nix
Dynamics of a BDSM Scene - Mistress Cyan
Pet play - Madame Margherite
The Care and Keeping of the Dominant - Raynah kitten
Ageplay- Ana Algos
Risk Profiles - Rachiii
Hard Skills Classes (PE!):
Spank You Very Much!-Jenn/lostnfound1
Advanced needle play - Nix
Knife play - RedLions
Massage as service-Andrea
The **FIRST 20 STUDENTS** will receive a goodie bag with fun stuff from Stockroom and The Pleasure Chest!
Thank you to them for being so generous - for more info:
Instagram: @officialstockroom + @stockroomretail
Twitter: @Stockroom_com
Facebook: @officialstockroom
Fetlife: The_Stockroom
http://thepleasurechest.com or
Instagram: pleasurecheststores
EVENT PAGE: https://fetlife.com/events/830950