Refund policy
Contact the organizer to request a refund.
Eventbrite's fee is nonrefundable.
Read on for important registration and book order details for this Brookline Booksmith virtual author event!
About this event
Celebrate the release of Expedition Backyard with author Rosemary Mosco and artist Binglin Hu, in partnership with the Emerald Necklace Conservancy.
Copies of Expedition Backyard purchased on this page will be signed and personalized by Rosemary Mosco.
How to Register
Register on this page to receive a Zoom link
Register free, support the store, or buy the book to enter the event
If you don't receive a confirmation email after registering, contact us
Get Your Books
Books are held for pickup or shipped after ticket sales have closed.
STORE PICKUP- Pick up your book in person at Brookline Booksmith (Click here for directions). You will receive an email alert when your book is ready.
SHIPPING - Have your book shipped via USPS priority mail. Shipping is only available in the United States.
If you have trouble checking out, check the Eventbrite FAQ located here.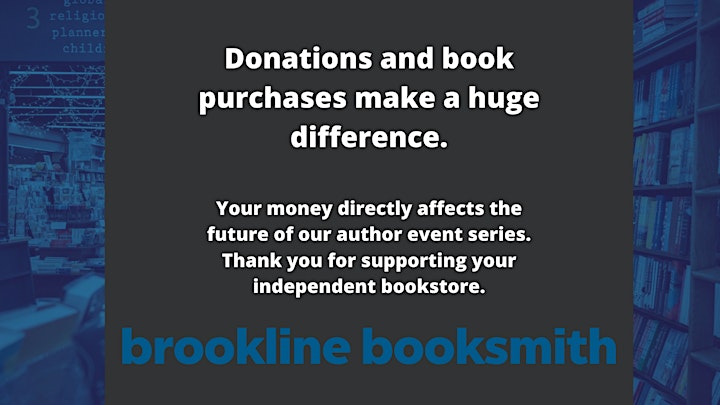 Expedition Backyard: Exploring Nature from Country to City
Join two best friends—a mole and vole—on their everyday expeditions to find beautiful plants, meet new animals, and learn more about the world all around them in this nonfiction graphic novel.
Each day, Mole and Vole venture out into the world – never forgetting their nature journal! – to see what they can find in their own backyard. From pigeons and jumping spiders to swamp milkweed and maple trees, these two explorers get to know every part of their local environment. But after an accidental move from the country to the city, Mole and Vole worry that everything will be different. As they explore, they discover plants to look at and animals to meet in their new home as well.
The story of these two best friends brings to life a nonfiction adventure of finding wonder in nature everywhere – no matter where you live.
Rosemary Mosco makes books that connect people with the natural world. She co-wrote The Atlas Obscura Explorer's Guide, a New York Times Best Seller. She speaks at bird watching festivals and writes for Audubon and the PBS kids' show Elinor Wonders Why. She tweets @rosemarymosco.
Binglin Hu is a cartoonist, illustrator, and designer. Their work pulls inspiration from wildlife, fashion, mythology, and their lived experiences as a queer second-generation Chinese-American immigrant. Binglin's day job is graphic design at the National Aquarium. They tweet at @binglinhu.
About the Emerald Necklace Conservancy
The mission of the Emerald Necklace Conservancy is to restore and improve the Emerald Necklace for all.
The Conservancy connects people and parks and conserves the Emerald Necklace park system through projects and programs that enrich the visitor experience and restore and renew the landscape, waterways and parkways. To steward the Necklace's 1,100 acres of parkland extending from Boston's Back Bay through Brookline and Jamaica Plain to Franklin Park in Dorchester, the Conservancy collaborates with its partners on advocacy, maintenance and restoration, education and access and promoting park stewardship through volunteer and youth programs.
About Brookline Booksmith
We are one of New England's premier independent bookstores, family-owned and locally run since 1961. We offer an extensive selection of new, used, and bargain books; unique, beautiful gifts; award-winning events series; and specialty foods. Every day, we strive to foster community through the written word, represent a diverse range of voices and histories, and inspire conversations that enrich our lives. Find more at brooklinebooksmith.com!
EVENT ACCESSIBILITY
Barring technical difficulty, auto-transcription is enabled on all Brookline Booksmith Zoom Webinar events.