Description
Experience 2019's most spine-chilling fun run through the grounds of Rosehill Cemetery on Chicago's northside.
Run or walk the candle lit 5K course, sprawling 350-acre Victorian-era cemetery that opened in 1864. It's by far the largest cemetery in the City of Chicago (and second largest in Illinois).
Gargoyles! Monuments! Frightful Scenic Paths! And then there's the famous Chicagoans who reside in Rosehill. Among them: more than 10 Chicago mayors, Oscar Mayer, John G. Shedd, Cubs' announcer Jack Brickhouse, legendary alderman Leo Burnett, Sears founder Julius Rosenwald and scores of Civil War vets are just a few of the souls who call Rosehill home.

Celebrate your cemetery escape at the Post-Run Pumpkin Party at Fireside Restaurant & Lounge
5739 N Ravenswood
Chicago IL 60660
Online registration closes at noon on Thursday, October 10.
Registration and Packet Pickup are available at:
Fleet Feet - Lincoln Square
4762 N. Lincoln Ave.
Thursday, October 10th from 3pm - 8pm
Friday, October 11th from 11am - 8pm
OR race day starting at 5:30pm!
T-Shirt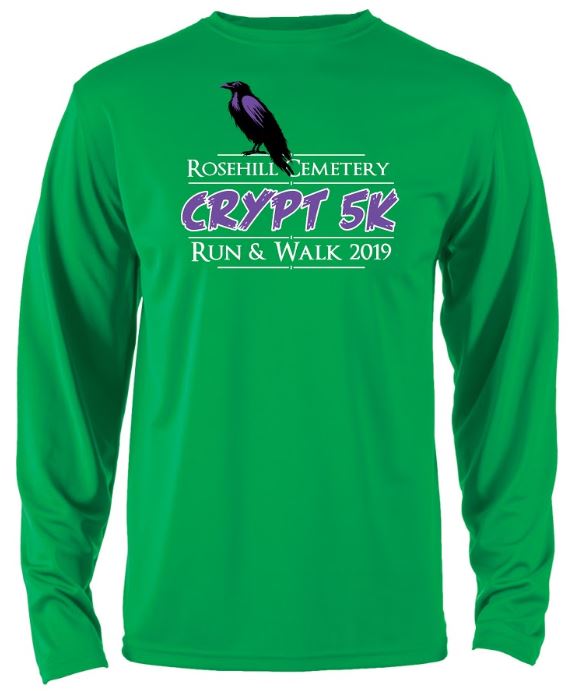 ---
About our Beneficiary: American Diabetes Association
Founded in 1941, the Alexandria, Va.-headquartered American Diabetes Association (ADA) is the nation's leading organization working to fight the consequences of diabetes and help those affected by the disease. ADA, with a satellite office in downtown Chicago at 55 E. Monroe, funds research to manage, cure and prevent diabetes. This includes both Type 1 as well as the far more commonly diagnosed Type 2.
Illinoisans are increasingly impacted by diabetes. Thousands suffer from the disease, and many may have diabetes and not know it. It's estimated that one out of every three children born after 2000 in the United States will be directly affected by diabetes. To learn more about ADA visit www.diabetes.org.

---
All sales final, no refunds, no ticket redemption on unused tickets
Note: Strollers are not allowed on the course route.
For the most up-to-date information, please visit www.chicagoevents.com