Sip, eat and relax at the 2021 Rosé in the Park !
About this event
Dear NHA members, friends and neighbors,
The Nob Hill Association invites you to sip, eat and relax at the 2021 Rosé in the Park neighborhood BBQ in Huntington Park on August 21st. This year's event will feature:
Delicious food and drink with meat dishes from LeBeau Market
Salads and sides from The Fairmont Hotel
Freshly baked focaccia from the Nob Hill Café
Beer, wine and other beverages from the Pine-Jones Market
Wines from The Ritz-Carlton Hotel
Desserts from the Intercontinental Mark Hopkins Hotel
Great live music
Family-friendly fun and the Huntington Park playground!
Tickets include all food and one glass of Rosé. Additional wine, beer, and other beverages are available for purchase.
NHA members: $30 (Active membership status will be verified)
Non-members: $45
Children (under the age of 12): $15
At the door tickets: $45. If you become a new member at the door, your ticket price will be only $30.
See you there!
The Nob Hill Association Board of Directors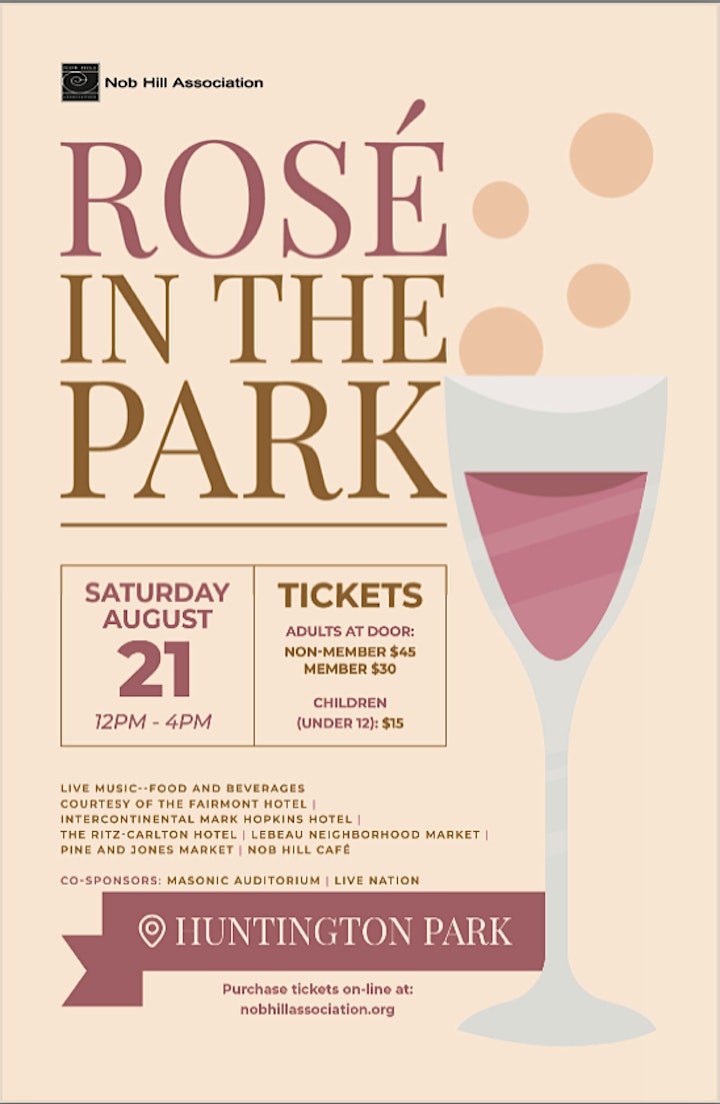 Organizer of Rosé & BBQ in Huntington Park 2021 - hosted by Nob Hill Association
The Nob Hill Association (NHA), Dedicated to Strengthening Our Neighborhood Through Community and the Nob Hill Foundation (NHF), are non-profit corporations dedicated to the preservation and improvement of the Nob Hill neighborhood and of Huntington Park. NHA and NHF also focus on the enhancement of public understanding, appreciation and enjoyment of this historically significant area of San Francisco. The Association, the oldest neighborhood association in San Francisco, was formed in 1928 by a group of concerned residents who wished to maintain and improve their unique neighborhood.
Join the Nob Hill Association today! Support your neighborhood park!  Learn about city issues that will affect your neighborhood and let your voice be heard. Enjoy the benefits of membership–discounts at local businesses, membership parties, opportunities to meet neighbors and make new friends! Join today!  To become a member, signup here. We look forward to welcoming you!