Description
ROSCon 2017 is a chance for ROS developers of all levels, beginner to expert, to spend an extraordinary two days learning from and networking with the ROS community. Get tips and tricks from experts and meet and share ideas with fellow developers.
ROSCon is a developers conference, in the model of PyCon and BoostCon. Following the success of the past five annual ROSCons, this year's ROSCon will be held in Vancouver, Canada. Similar to previous years, the two-day program will comprise technical talks and tutorials that will introduce you to new tools and libraries, as well as teach you more about the ones you already know. The bulk of the program will be 30-40 minute presentations (some may be longer or shorter).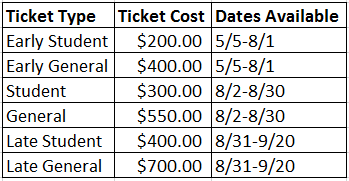 REFUNDS: All refund requests must be made in writing with subject line 'CANCELLATION' and received no later than Thursday, August 31st 5pm PT. No refunds will be processed for those cancelling after this date. Refund requests are subject to a $50 processing fee. To obtain a refund, please email Kate@meetgreen.com
SUBSTITUTION: Requests must be made in writing and emailed to Kate@MeetGreen.com. Requests will be accommodated at no fee. Substitution requests made after Friday, August 11 will not guarantee the availability of an updated shirt size.
Depending on available funds, we may be able to offer discounted or waived registration fees to attendees for whom it would make a difference in their decision whether to attend ROSCon 2017 in Vancouver B.C. To ask for discounted registration, send email to roscon-2017-oc@openrobotics.org.