Description
Enjoy a relaxing day in France with you, your friends and the whole family!
Depart from Plymouth, Britain's Ocean City and travel overnight to the beautiful port of Roscoff by ferry.
Arrive in the morning, enjoy a croissant and cafe au lait, before exploring the quaint Breton fishing town. Wander the streets with the help of our French tour leader Stephanie and a handy guide to the area. Enjoy lunch - a crepe perhaps or some moules frites - you could even hop over to the beautiful Isle De Batz on the foot ferry before catching the overnight ferry back to Plymouth.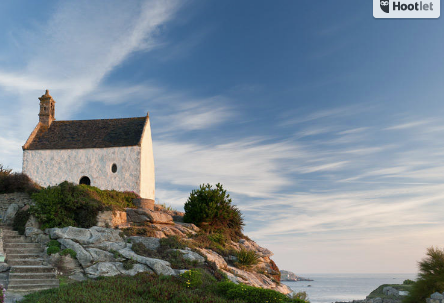 [Image: Isle De Batz]
What's included:
* A return Brittany Ferries ticket, including a reserved lounge seat.
* Handy French Conversational Guide, produced by Team Borneo students, to help navigate Roscoff.
* Optional one hour walking guided tour of Roscoff with French teacher Stephanie Trachet (please select when booking / 60 places available) OR a Guide to Roscoff, to follow at your leisure.
Merci!
Ferry Timings:
Outbound: Friday 8th February 2019 Plymouth – Roscoff 22:00
Inbound: Saturday 9th February 2019 Roscoff – Plymouth 22:00
PROVISIONAL ITINERARY on link here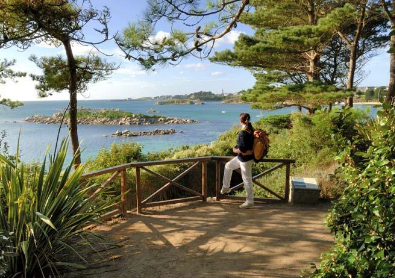 EARLY BIRD PROMOTION: Book before Dec 24th and you will be automatically entered into a draw to win a £200 Brittany Ferries voucher!


IMPORTANT ADDITIONAL INFORMATION
* This trip is a fundraiser organised by Plymouth School of Creative Arts and our Borneo expedition team. All profits will help to finance the students' trip and will go to the trip organiser - Camps International, a social enterprise - and their registered charity.
* Please note that our PSCA Friends and Family trip to Roscoff is opened to all and is different from our annual Y7 and Y8 student trips to France. These will be organised later in the year.
Price
Return cost is £48.00 per person or £38 for a child, including a free lounge seat overnight. You can book on board accommodation at extra cost if you wish and depending on availability. An early booking at time of registration is strongly advised as cabin prices may vary at a later stage.
Optional Cabin available at extra cost:
£60.00 per 2-berths cabin, shower and WC (£30.00 each way) OR £80.00 per 4-berths cabin, shower and WC (£40.00 each way). Please advise at booking if you are sharing a cabin with a friend or family member(s).
Note:
- This is a Friday night sailing and cabins sell out quickly. Please be aware that while we will do our best to secure a cabin for you, it is not guaranteed. Select the correct ticket option for your choice at time of purchase.
Parents, families and carers wishing to travel with children
Children will be under the sole responsibility and supervision of the adults they are travelling with during the whole duration of the trip. Depending on your circumstances, you may need to carry a letter of consent with you; please read the government guidance here and Brittany Ferry updated page here. For more details, please contact Stéphanie Trachet, Roscoff Trip Organiser and Borneo Expedition Lead Teacher at Plymouth School of Creative Arts: strachet@schoolofcreativearts.co.uk

Payment terms
We kindly ask you to make a full payment at time of booking via Eventbrite to secure your place. Please note that as this is a fundraiser event, we will not be able to refund you should you wish to cancel your trip and will consider your financial contribution as a donation to help fund our 2019 Borneo Expedition trip. Please contact Stéphanie if this represents a major difficulty for you.
Passport options and visas
For British nationals: A number of passengers will travel on their own passport
For EU nationals: Passengers from other EU countries can either use their valid passport or their valid ID card to travel to France. They need at least one of these two valid travel documents.
For all other international passengers: You will need a valid passport to be able to travel outside the UK. Please enquire to your country passport office if you need to get one. Also, if your country is listed here you do not normally need a visa for a short stay in France. Other international passengers would normally need a visa to visit France and should contact directly the French embassy to apply for their visa. This procedure takes a few weeks so please enquire early on.
Health formalities
To insure that you and your family members are well covered while overseas, you need to apply to a FREE European Health Insurance Card (EHIC card). Applying for this card is free of charge and it normally arrives within 7 days. Please follow this link to apply, call 03003301350 or visit this website for more infos.
- As all medical fees may not be covered in France, a comprehensive travel and medical insurance covering you and other members of your family fully during your stay in France is also advisable. single trip travel insurance can be found on the Post Office website (here) but you may want to compare with other travel insurances on the market.

FAQs
What is this money being raised for?
All profits will go to funding 11 PSCA students in Year 10 and 11, to travel to Borneo with Camps International, a leading social enterprise, in Summer 2019, to deliver practical help to remote communities and build their own skills and abilities. As part of the experience, the students are all expected to raise all or part of the cost of the trip themselves.
What's the refund policy?
There are no refunds once booked. Cancellations will be considered a donation. We will ask you to confirm you understand this when you book.
Do I have to bring my printed ticket to the event?
No, but you will need your passport and an EHIC is strongly recommended.
Is it ok if the name on my ticket or registration doesn't match the person who attends?
No - you must submit the name that's on your passport.