Roots Retreat: Arts, Action, and Rewilding
About this event
This spring you are invited to join co-hosts, Ryan Rising, Marco Lam, David satori and Dirtwire in an opportunity to equip yourself with tools to put to use for personal and communal health.
Programming will be focused on Social and Community Permaculture, Arts and Activism. The experience will be balanced with restorative personal practices, farm to table food, and inspirational wilderness immersions in a restful retreat setting, the aim is for all attendees to feel invigorated as the seasons change, connected and inspired as they take on summer projects.
Registration includes:
* 4 days of engaging activities, inspiring talks, and nature immersions Led by the Beyul Retreat team

* 3 nights accommodation at Beyul Retreat, a historic guest lodge and cabins in the heart of the Colorado Rocky Mountains recently re-envisioned as a retreat center & community gathering space

* 3 gourmet meals a day featuring organic, local, & seasonal ingredients

* Retreat amenities including sauna, hot tub and cold plunge, riverfront hiking trails, fire pits, and a cozy Main Lodge to gather in

* Musical workshops and performance by David satori and Dirtwire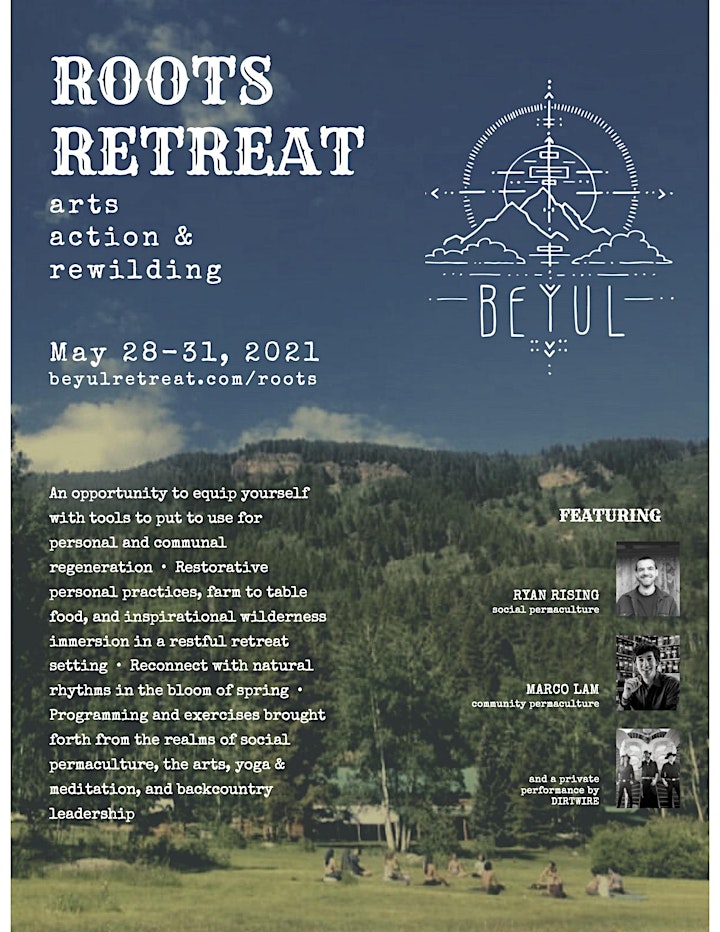 Hosts
Ryan Rising is co-founder of the Permaculture Action Network and a skilled facilitator, ecological design educator, and community organizer based out of the San Francisco Bay Area. Ryan organizes direct actions toward ecological regeneration and community autonomy including more than one hundred Permaculture Action Days with renowned performing artists and musicians. Ryan teaches Permaculture Design Courses and Social Permaculture Extensions, co-founded the Gill Tract Community Farm and Omni Commons, and organizes with the NonProfit Democracy Network and the Thriving Resilient Communities Collaborative, as well as a network on land-based projects throughout California.
Marco Lam has been a perpetual orchard planter and an overstory for the Colorado permaculture movement for over 20 years. Trained by Bill Mollison himself, he carries on the tradition of barbecuing sacred cows and building community around what matters.
Dirtwire's music is a blend of ethnomusicology and the psychedelic trance state, a mashup of gut-bucket delta blues, world-born groove, and what the band dubs "back-porch space cowboy swamptronic electro-twang." It's a sound informed by Dirtwire's travels and performances around the globe, where East meets West and North joins South. From the favelas in Brazil, Femi Kuti's Shrine in Lagos, Tokyo's bluegrass clubs, Ayahuasca ceremonies in Central America, Gamelan performances in Bali, desert festivals in the Australian Outback, and the 20th anniversary of Kazakhstan's modernized new capital Astana, the band has spread its message and learned its trade by building bridges across musical cultures the world over. West African kamale ngonis, jaw harps, space fiddles, whamola basses, Rickenbacher electric 12 string guitars, bowed Banjos, and mouth harps from around the globe are all played live and interweaven with modern laptop beat creation. Dirtwire strives to be a collaborative celebration of the planet's musical diversity, a testament to the power of music to reach across cultures and bring people together.