Description
Join Purelements: An Evolution in Dance for a conversation at the intersectionality of dance, immigration, equity and local community building. The community conversation on the impact of immigration on dance and cultural practices and the cultural and racial legacy of East New York and other underrepresented areas will be moderated by Dance/NYC's Programs Manager, Alejandra Duque Cifuentes, will address:
How do immigrants and first-generation Americans work to assimilate, preserve, or transcribe dance and cultural practices for future generations?

How does equity play a role in the creation of spaces that help to preserve and support the sharing and development of dance as a cultural practice?
PANELISTS
- iele paloumpis
iele paloumpis is a dance artist, educator and end-of-life Doula. Choreographic works have been shown through Brooklyn Arts exchange, New York Live Arts, Danspace Project, Dixon Place, the Flea Theater, Movement Research, Painted Bride Art Center, Franklin Street Works and Taubman Arts among others. iele has danced for many artists including niv Acosta, devynn emory, Jaamil Olawale, Jen McGinn, Katie Pyle, Emily Wexler, and Nina Winthrop. iele was a 2020 Leeway Foundation Art and Social Change Grantee; 2012-2013 New York Live Arts Studio Series Air in Queer Art Mentorship Bello, 2013 BAX Fall Space Grantee, 2014 Franklin Street Work Resident Artist and 2017 Artist in Residence at Zil Culture Center in Moscow. iele received a BA from Hollins University in 2006 and was awarded end of life doula certifications from Mount Sinai, Valley Hospice and Deanna Cochran's Accompanying the Dying Program. iele currently offers dropping classes through Movement Research's Physical Inquiry and Somatic Practices series.

- Elana Anderson, Phd
Elana Denise Anderson, Ph. D. is an artist, instructor, life-long student, lecturer and scholar. She holds a Bachelor of Arts degree in African American Studies with minors in English Literature and French from Chicago State University (2007), a Master of Arts degree (2009) and Doctorate of Philosophy (2013) in African Studies concentrating in Language, Literature, and the Arts, as well as a Graduate Certificate in Women's Studies (2013) from Howard University. She is currently the Associate Director of the Women's Institute for Freedom of the Press (2012). Dr. Anderson is a member of the American Guild for Musical Artists (AGMA) and a lifetime member of the National Council for Negro Women. Dr. Anderson currently serves as senior artist, consultant, narrator, rehearsal coach, project manager and instructor, while also serving on the faculty of the DC-based Joy of Motion Dance Center (2008), Dance Dimensions of Forestville, MD (2014), MODAS Dance of Albuquerque, NM (2011) and most recently as Ballet Mistress of the Center for Visual and Performing Arts of Suitland High School in MD.

- Kwikstep
Gabriel "Kwikstep" Dionisio AKA DJ KS 360 started dancing between the ages of 6 and 7 influenced by Soul Train and block parties in NYC. Kwikstep has performed in PBS's Peabody Award-winning Everybody Dance Now, the Great Performances 20th Anniversary Special and Kurt Weill's Emmy-nominated September Songs. In 1991 he had won a Bessie award for choreography and founded the internationally known Full Circle in 1992. In 1996 Kwikstep and his wife Rokafella established Full Circle as a non-profit internationally acclaimed Hip-Hop collective. As an international icon in breaking, Kwikstep is best known for his smooth style, versatility and signature head spins. He was also an original founding member and principal dancer in Rhythm Technicians, GhettOriginal -- creators of Drama Desk Award-nominated "Jam on the Groove". In 2002, Gabriel "Kwikstep" Dionisio along with his wife wrote, choreographed and directed the Hip-Hop show, "Soular Powerd," which showed to sold out audiences for 3 weeks at the New Victory Theater. Most recently, Kwikstep along with his wife wrote, choreographed and directed a new Hip-Hop theater piece commissioned by the Kennedy Center, called "Outside The BachX.
- Rokafella
Ana "Rokafella" Garcia has represented Hip-hop dance over the past two decades and co founded Full Circle Productions Inc, NYC's only non profit Breaking Theater company with her husband veteran Bboy Kwikstep, generating theater pieces, poetry, a documentary highlighting the Bgirl lifestyle entitled "All The Ladies Say" plus original music based on her experiences growing up in Hip-Hop's mecca. Rokafella is hired internationally to judge Break dance competitions based on her mastery of the classic Hip-Hop dance style and teaches unique workshops aimed at evolving and preserving its technical aspects. NYC public and private schools, CUNY and UNY Universities as well as local community centers present her workshops to aspiring dancers as part of mentorship programs. Presently, she is a fellow of NYU Hip-Hop Education Center, an artist in residence at the Bronx Music Heritage Center and a member of the Bessie's Dance and Performance Awards selection committee. She has been featured in pivotal Hip-Hop music videos, tours, film and commercials as well as choreographed for diverse festival concerts, including the Oregon Shakespeare Festival. Rokafella is a multi faceted Hip-hop artist who references street and Latino culture as her foundation.

Alejandra Duque Cifuentes (Moderator)
Alejandra Duque Cifuentes is an entrepreneur, program developer, activist, theatre artist, and educator. Having worked in productions alongside Austin Pendleton, Kristin Linklater, Melanie Joseph, Joanna Haigood, Lear DeBessonet, Ken Rus Schmoll, and the Columbia University School of the Arts, among others. Alejandra brings her production and stage management, and directing experience to Dance/NYC. A graduate of Columbia University School of General Studies, Alejandra has been teaching children and adults of all ages for 10 years and is the founder and director of Theatre That Transcends, an educational and community theatre organization that teaches local, underserved communities how to express themselves and address community issues through the art of theater.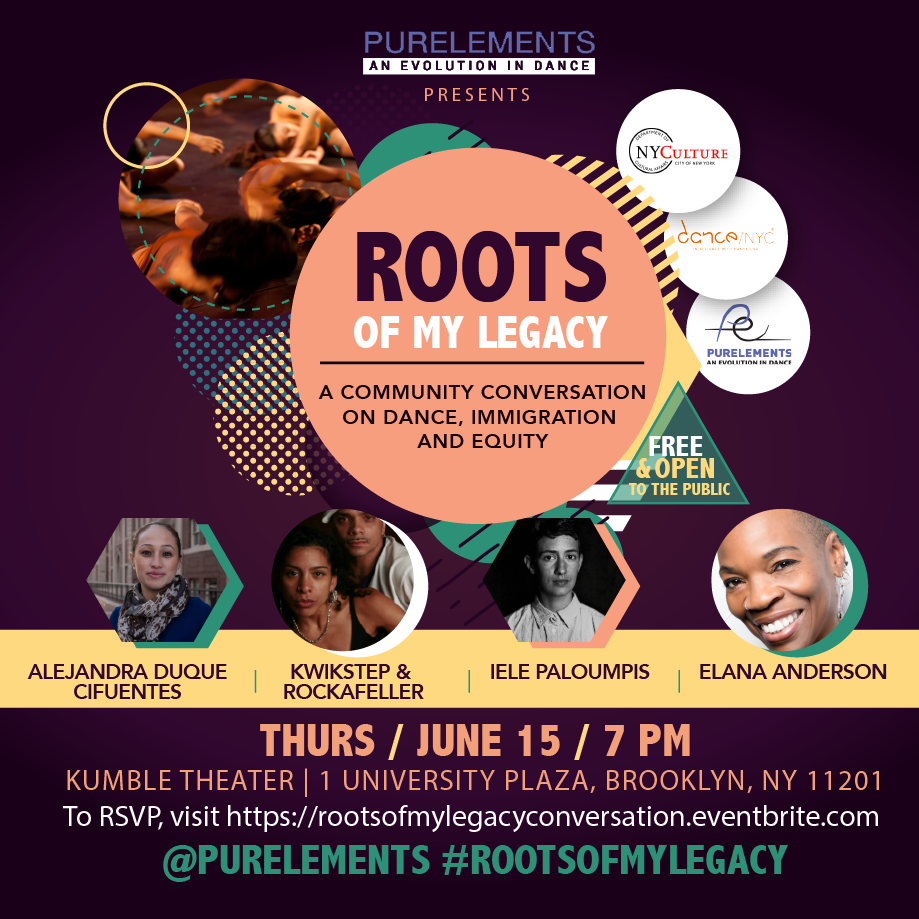 #RootsofMyLegacy
**Thanks to our event partners, Dance/NYC!
***Special thanks to the NYC Dept. of Culture for funding this program made possible through through the 2017 Cultural Immigrant Grant.
Kumble Theater for the Performing Arts is an accessible venue. Balcony seating and wheelchair seating is available in select rows. If you require reasonable accommodation, please contact Hannah Joo at least three days prior to the event via email at hjoo@dance.nyc or call 212.966.4452 (voice only).
*Events are FREE and Open to the Public*
---
SAVE the DATE: Purelements presents Select works by Purelements Junior Dance Company feat. performances by spoken word artists Jamie Lee Lewis, Erwin Thomas and Jennifer Falu on Friday, June 16, 2017 at 7pm
Organizer of Roots of My Legacy: A Community Conversation on Dance, Immigration and Equity
Purelements: an Evolution in Dance ("PE") is a 501(c) (3) performing arts organization founded in 2006, by Kevin A. Joseph and Lakai Worrell. The mission of PE is to use multiple facets of the performing arts as educational tools to evolve and transform the individuals and communities it serves, and to present dynamic performances that are socially relevant and impactful. PE's mission unfolds through an art-in-education program, a performing arts program and its professional and pre-professional dance companies. To learn more about Purelements, visit purelements.org.