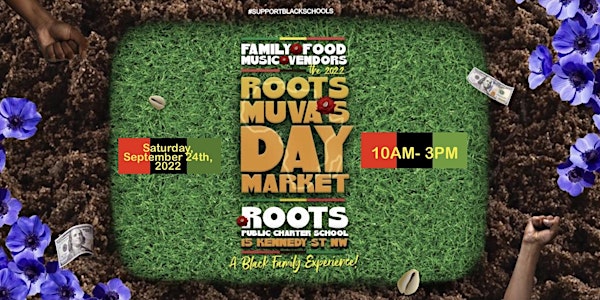 Roots #BlackMarket Place Fundraiser
Using black dollars to educate black children!
When and where
Location
Roots Public Charter School 15 Kennedy Street NW Washington, DC 20011
About this event
POP UP and Support a great cause!
Roots PAC is shining the spotlight on a black owned marketplace with entrepreneurs of all ages & families.
This is a charity fundraiser event.
Every vendor is expected to advertise and promote the event as a group effort.
Table location ( inside or outside) is first come first serve. Rental chairs and table/sets are available while supplies last.
Table space is approximately 10' x 10'
Vendor Rules
Spaces will be assigned based on first come first serve. Each vendor must bring his or her own table and chairs (1 table & 2 Chairs can be provided for an additional fee, and while supplies last). Vendor spaces are equivalent to a Parking Space (approximately 8' x 16'; no less than 10' x 10').
PLEASE ARRIVE EARLY FOR SET-UP starting 8:00a, and all unloading vehicles must be cleared of Parking Lot Area by 9:30a
PAYMENT METHODS:
Eventbrite, Credit Cards
NO REFUNDS
1. NOT TO BE SOLD BY SPACE REGISTRANTS: Firearms, knives, or other weapons, tobacco/drug paraphernalia, provocative materials, fireworks, or any goods Roots PCS deems inappropriate.
2. Assignment of Spaces will be at the discretion of Roots PCS based on first come first serve, filling from the front to the back on the outside first, then moving indoors to the overflow area in the Multipurpose Room.
Vendors can unload no earlier than 8:00 a.m. and cannot enter with vehicles after 9:30 a.m. You must bring your own tables and chairs unless you choose to donate an additional $10 for 1 table and 2 chairs, if they are available.
If there is inclement weather, a pop-up canopy is suggested, provided wind conditions are optimal. Vendor spaces are similar to the size of parking spaces. Space is limited to regular cars, light pick-up trucks or average-sized SUVs.
SPACES WILL BE RESERVED ONLY AFTER PAYMENT HAS BEEN RECEIVED AND "CLEARED." Roots PCS may, in its sole and absolute discretion, change location of a space or spaces for any reason whatsoever.
3. A signed Vendor Agreement along with Full Payment must be received by Roots PCS for agreement to be valid.
4. Arrival and set-up by vendors for the Roots Market shall begin no earlier than 8:00 a.m. (or when Event Staff allows) on the date of the event; and after Event Staff deems safe. Vehicles used for unloading only, must immediately leave the selling area once unloaded. Vendors arriving after 9:30 a.m. will Not Be Permitted Entry with a vehicle. Vendor will have to transport all sale items by walking items to assigned space. NO EXCEPTIONS!
5. No solicitations of any kind are to be made outside of the spaces in which Vendor is assigned. No distribution of promotional flyers, coupons, or items of any kind is permitted in the selling area or parking lot.
6. Liability and Insurance for any damages to person or property sustained by Vendor at the event are the sole responsibility of Vendor. Roots PCS shall have no responsibility to Vendor for any such damage or injury. In addition, Vendor agrees to indemnify and hold harmless Roots PCS and its contractors and subcontractors and its or their present and future controlling persons, directors, officers, employees and agents from any and all claims, demands, actions, damages, expenses, losses or liabilities arising in any way out of Vendor's participation and/or presence at the Roots Market.
7. Cleanup: Cleanup of all vendor materials is the sole responsibility of the Vendor. A dumpster is available on site.
8. Vendors must remain in place until 3:00 p.m.
9. Unsold items: Roots PCS, Inc. is NOT responsible for your unsold items. Vendors MUST take all items, equipment, trash, supplies.
10. Rental Tables and/or chairs must be returned, all vendors and equipment must be packed and moved off campus, and vendor spaces claened and cleared by 3:30pm.
11. All Vendors are required to promote/advertise this event.