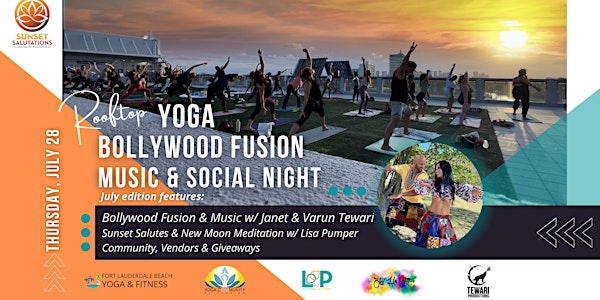 Rootop Sunset Yoga, Bollywood Fusion, Music & More - July Edition
Location
Las Olas Parking Garage - Rooftop Event Terrece
200 Las Olas Circle
5 floor
Fort Lauderdale, FL 33316
Refund policy
Refunds up to 1 day before event
Eventbrite's fee is nonrefundable.
Sunset & star filled evening of celebration through movement, music & more.
About this event
Join us for another beautiful sunset & star filled evening of soulful movement & connections.
🔹 𝐉𝐮𝐥𝐲 𝐄𝐝𝐢𝐭𝐢𝐨𝐧 𝐅𝐞𝐚𝐭𝐮𝐫𝐞𝐬:
• 𝐒𝐮𝐧𝐬𝐞𝐭 𝐒𝐚𝐥𝐮𝐭𝐞 𝐘𝐨𝐠𝐚 : w/ Lisa Pumper
( *optional pre-event express class at 6:30 pm )
• 𝐁𝐨𝐥𝐥𝐲𝐰𝐨𝐨𝐝 𝐅𝐮𝐬𝐢𝐨𝐧 𝐃𝐚𝐧𝐜𝐞 & 𝐌𝐮𝐬𝐢𝐜 : special guest Janet & Varun Tewari of Jai Ho Fit & Tewari Productions
• 𝐍𝐞𝐰 𝐌𝐨𝐨𝐧 𝐌𝐞𝐝𝐢𝐭𝐚𝐭𝐢𝐨𝐧 : w/ Lisa Pumper
• 𝐓𝐫𝐞𝐚𝐭𝐬 : healthy lite snacks & comp Agua Bucha sparkling water.
*we encourge you to BYO picnic to enjoy on the lawn. We will also have fresh juices & snacks to purchase from vendors.
• 𝐕𝐞𝐧𝐝𝐨𝐫𝐬 & 𝐜𝐎𝐌𝐦𝐔𝐍𝐈𝐓𝐘 : shop, connect, raffle, massage zone & byo picnic
This is a beautiful environment where every color, shape & size is welcome.
Come as you are, and receive all you deserve. #HappyHealthyRooftopVibes
[ 𝗧𝗜𝗠𝗘/𝗗𝗔𝗧𝗘 ]:
Thursday , July 28
🔹 6:30 pm: DOORS OPEN EARLY
( *6:30 pm optional pre-event Sunset Salute Express Yoga with Lisa )
Check in, settle in, mix and mingle with the community vendors, take fun & fabulous photos with the city skyline on our rooftop terrace, grab a sunset massage or take the sunset express class.
🔹 7:15 pm: MAIN EVENT BEGINS
[ 𝗕𝗥𝗜𝗡𝗚 ]:
Yoga mat, large towel, sunglasses & bottle of water.
Wear fun & comfortable attire to dance, move and mix in.
Layers in case it gets chilly/windy when sun goes down.
We have both turf grass, and stone surfacing to choose for your practice space.
Comp snack provided after class, but you are welcome to pack a fabulous picnic dinner to enjoy on the lawn after class. + vendors will have juices & snacks to purchase.
[ 𝗟𝗢𝗖𝗔𝗧𝗜𝗢𝗡 ]:
Las Olas Beach Garage - 5th FL Rooftop Terrace ( 2 blocks from the beach )
200 Las Olas CircleFort Lauderdale, FL 33316
[ 𝗣𝗔𝗥𝗞 ]:
Drive up to Level 5 of the Las Olas Beach Garage ( by the Rooftop terrace )
$ hourly rates or - $10 flat rate parking from 4pm till 2am
* the discount code ( HERE ) & will be in the reminder email for ticket holders 2 hours before event begins
[ 𝗘𝗩𝗘𝗡𝗧 𝗧𝗜𝗖𝗞𝗘𝗧𝗦 ]:
🔸 $25 single / $45 for two; by July 25
( *includes healing stone gift )
🔸 $29 single / $55 two; after July 25
(*based on availability )
Space is limited to only 75 participants.
[ 𝗟𝗜𝗡𝗞 ] : https://RooftopYogaMusicEventJuly.eventbrite.com
[ 𝗥𝗘𝗤𝗨𝗜𝗥𝗘𝗗 PARTICAPATION 𝗪𝗔𝗩𝗜𝗘𝗥 ] : https://form.jotform.com/210246468500045
[ 𝗔𝗕𝗢𝗨𝗧 ]:
• Lisa Pumper :
Event Organizer & LO/OP leading Yoga Educator
BeachYogaFit.com | yogacOMmUNITYfl.com
• Janet & Varun Tewari :
Dance & Event Production
JaiHoFit.com | TewariProductions.com
• LO/OP :
Las Olas Oceanside Parks:
TheLoopFLB.com
• VENDORS :
LivasYogaMats.com | LindasTakeGranola.com | TheCashmereCare.com | @Juice$YourSoul | AnahataOm.com | WellRootedFamilyChiro.com & More..
[ 𝗪𝗘𝗔𝗧𝗛𝗘𝗥 ]:
Any delays or cancellations will be announced at least 60 minutes before class on our: TWITTER @FortYoga https://twitter.com/FortYoga
( *you dont need a social media Twitter account to view the pubic page )
*keep in mind, rain cells usually pass quickly or cells do not come over our location.
If event is moved to new date, or canceled - paid attendess will have 24 hours to request a full refund, if they can not attend new date.
[ VENDORS, 𝗣𝗔𝗥𝗧𝗡𝗘𝗥𝗜𝗡𝗚, 𝗖𝗢𝗟𝗟𝗔𝗕𝗢𝗥𝗔𝗧𝗜𝗢𝗡𝗦 & 𝗤𝗨𝗘𝗦𝗧𝗜𝗢𝗡𝗦 ]:
Have a conscious product or service you want to share with us? We offer limited free spaces to display at events.
yogacommunityFL@gmail.com | text message to Lisa at 954-609-9074
BeachYogaFit.com | yogacOMmUNITYFL.com
#ftlauderdaleyoga #sunsetsalutations #Thisiswhereyoubelong