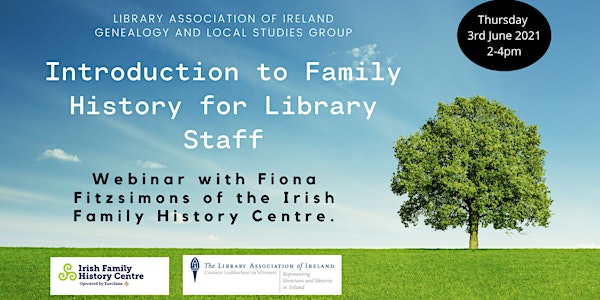 Rooting it all Out: Introduction to Family History for Library Staff
A webinar with Fiona Fitzsimons of the Irish Family History Centre
About this event
This webinar is aimed at those working in libraries in Ireland, and will be particularly useful to public libraries staff, particularly those who are new to public libraries and those who have not worked in the areas of local studies and genealogy previously.
This webinar will take place on Zoom, and details will be forwarded to participants 24 hours in advance of the event.
The webinar will consist of an overview of sources for Irish genealogy and family history.
Fiona Fitzsimons is a graduate of Trinity College Dublin, a historical expert and entrepreneur.
From 2005 to the present, Fiona and her team have provided research and historical consultancy for television and film production, including Who Do You Think You Are, Faces of America, Finding our Roots, Ancestors in the Famine, etc.
From 2010 Fiona has carved out a role as a writer and educator in Irish Public History. She has taught at the Innovation Academy, Trinity College Dublin; Ancestral Connections Summer School in N.U.I. Cork and the British Institute, SLC.
Fiona writes a column, Kindred Lines, in History Ireland; is a feature writer for online magazine Irish Lives Remembered; and contributes regularly to specialist journals, and popular magazines and newspapers.