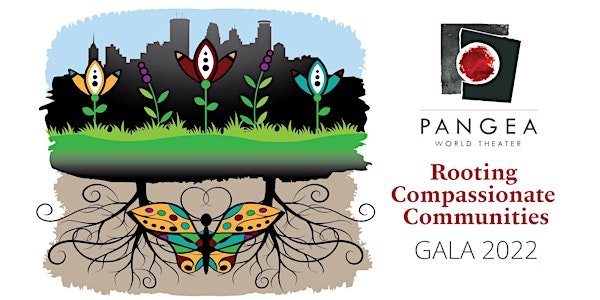 Rooting Compassionate Communities
Online and In-person Celebration of Pangea's Circle
When and where
Location
Lake Street & 27th Avenue 3009 27th Ave S Minneapolis, MN 55406
About this event
At Pangea, we know that as roots grow deeper, they grow more interconnected.
Through this root system — of artists, thinkers, healers, neighbors and friends — we sustain and nurture each other, year after year. That is why this year as we celebrate our Annual Gala, we want to honor the years of practice seeding, tending, and Rooting a Compassionate Community.
Join us to experience the gorgeous transformation of our community when compassion takes root.
June 16 - Online Event
6:00 pm CST
Sharing our vision for Lake Street
Watch party - The Transitions Stage Documentary
A sneak peek of Tatanka, our fall production with Oyate Hotanin
June 17 - In-person Event (live-stream available)
6:30 - Welcome and Ritual led by Sharon Day (arrive on-time to participate)
6:45-7:30 - Music & Mingle with Food by Curry in a Hurry
Chicken Tikka Masala Bowl
Cubed chicken breast marinated in garlic-ginger yogurt sauce, cooked in our tandoor oven, then sautéed in a tomato cream sauce flavored with fenugreek. Contains nuts and dairy. GF
Lamb Rogan Josh Bowl
A traditional North Indian red curry with Kashmiri chili peppers and fresh garlic. GF, DF
Vegetable Curry Bowl
Seasonal vegetables cooked in a curry sauce with toasted spices, onion, and garlic; served in a bowl over rice. V+, GF
7:30-8:30 - Performances and Speakers
8:30 - Closing
Mission
Pangea World Theater strives to build a just world by creating multi-disciplinary theater that embodies decolonizing practices of solidarity, sustainability and equity.
Land Acknowledgement
We are honored to work side-by-side on the sacred and traditional land of the Dakota people and commit to ensuring safety and security of those most impacted during this pandemic.
Pangea World Theater Covid Statement
Pangea World Theater's COVID-19 Protocols are shaped foremost by the fact that the pandemic has disproportionately impacted the Indigenous people, Black and Brown communities, and the most vulnerable members of our circle. The following protocols are crafted with the rigor needed to protect all our relations. Our protocols do not adhere to an industry standard set by institutions that try to balance human lives against profit margins.
Guidelines for Audience Members During Outdoor Events
When you arrive at a Pangea Event:
Please check in at the welcome table. There you will find hand sanitizer and masks for your use.
Pangea World Theater requires you to wear a mask when attending our public gatherings and events. If you refuse to wear a mask you will be asked to leave.
Audience members who are from different households must maintain 6 feet of distance or more.
Bright colored markings will be placed on the ground to indicate social distancing.
Pangea's staff and volunteers will also support our guests in maintaining a social distance and following Covid safety protocols while attending the event.
If any audience member is experiencing the following symptoms please stay home and get tested at the nearest testing site. All audience members will be asked the following:
Are you experiencing any COVID-19 symptoms:
Fever (99.5+ measured or just feeling feverish)
Cough
Shortness of breath
Sore throat
Loss of taste/smell
Chills
Headache
Muscle pain
Nasal Congestion