Description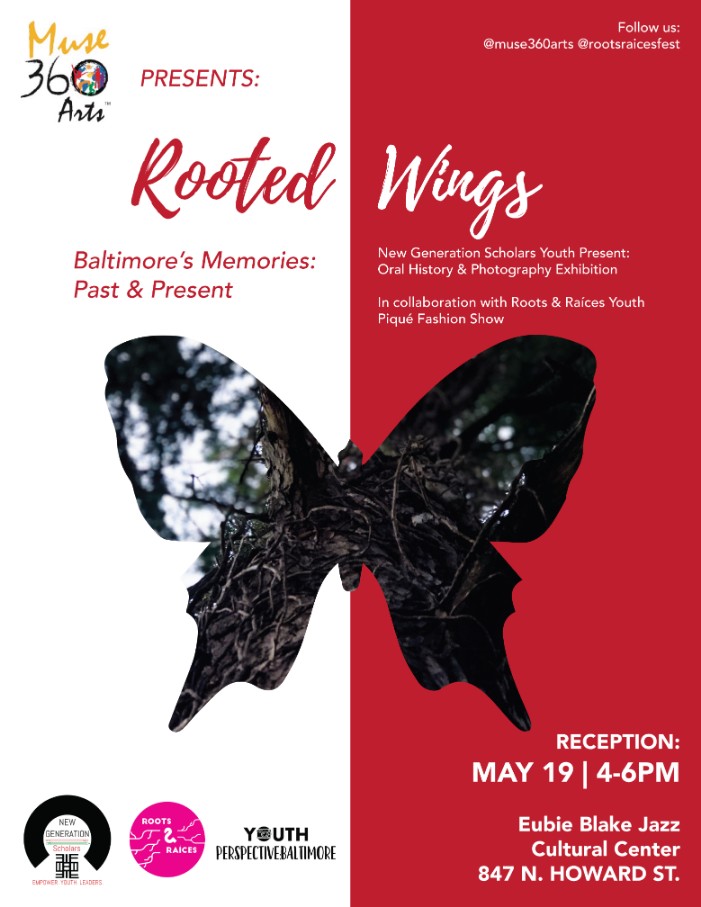 Muse 360 Arts Presents ...Rooted Wings: Baltimore's Memories - Past and Present
Opening Reception Sunday, May 19th | 4pm-6pm | FREE TO THE PUBLIC
Exhibition Dates: May 19- June 23 | 1st floor Gallery
"To me, the monarch butterfly represents the dignity and resilience of migrants
and the right that all living beings have to move freely."
- Favianna Rodriguez, Afro-Peruvian Transnational Interdisciplinary Artist and Cultural Organizer
Muse 360's New Generation Scholars have spent the past several months developing their leadership skills by studying the African Diaspora and developing their creative skills through photography. Throughout their studies, they have been researching Baltimore's connection to the rest of the African Diaspora.
Rooted Wings highlights a major source of research that is prominent in the preservation of our past - oral history. New Generation Scholars will share with the community the rich history and experiences of Black Baltimore told from the perspective of its elders and youth. Our scholars have documented their stories through photography and creative writing which will be displayed alongside each other at the exhibition. Also displayed will be photos of our scholars' experience studying in New Orleans during our recent trip in April where they were able to relate New Orleans' historical and current events to the Black experience in Baltimore.
Rooted Wings also celebrates the symbolism of the black butterfly by acknowledging the experiences Black and Brown people of this country who have been displaced, forcibly moved, or left their home countries in search of something greater - creating roots in new soil. Joining the scholars in this exhibition are youth from Roots and Raíces, an organization that provides a platform for creatives and activists to highlight, support, and celebrate immigrants through the arts and civic engagement. The youth will be modeling their fashion line, Piqué, which aims to cross ethnic and gender norms in fashion. Muse 360 Arts in partnership with Roots and Raíces will help to bridge the gap between marginalized communities of color and begin to create brighter futures for Baltimore's butterflies to claim and be proud of their roots.
New Generation Scholars is a program of Muse 360 Arts, Inc. - a non-profit organization that provides Baltimore youth of diverse backgrounds with high quality arts education that inspires them to reach their full potential. New Generation Scholars is a leadership program that helps youth, ages 13-21, to develop leadership skills through art education experiences beyond the classroom and traveling domestically and internationally to study the African Diaspora.
Available for Interview:
Sharayna A. Christmas, Muse 360 Arts Executive Director
Phone: 443-302-9761 | E-mail: scr@muse360.org
Website - www.muse360.org
Facebook - https://www.facebook.com/Muse360Arts
Instagram - www.instagram.com/Muse360Arts
Twitter - www.twitter.com/Muse360Arts