Description
ROOTED IN PEACE
Hosted by Jonathan Granoff, and featuring Fabien Cousteau, Lori Leyden, Audrey Kitagawa & Greg Reitman with special musical guests, NIKOO!
In celebration of Greg Reitman's new book, Rooted in Peace, this dynamic evening features the soulful music of NIKOO and a spirited conversation between leading experts on environmental, spiritual and social harmony. Together we will explore the multi-faceted approach needed to achieve both personal & planetary peace, and identify steps we can all take towards global healing.
• Your $35 ticket price includes a copy of Greg Reitman's new book, Rooted in Peace, which feautures interviews with Deepak Chopra, Desmond Tutu & many other peace leaders
• Your $55 ticket price includes a copy of Greg Reitman's new book, Rooted in Peace as well as a dvd or blu-ray of Rooted In Peace, the film
Greg will be signing copies of Rooted In Peace after the panel discussion
--------
Fabien Cousteau (Ocean Conservationist), is the Founder of Fabien Cousteau Ocean Learning Center. As the first grandson of Jacques-Yves Cousteau, Fabien spent his early years aboard his famous grandfather's ships, Calypso and Alcyone. He was part of a PBS series, "Ocean Adventures" with his father, Jean-Michel Cousteau, and sister, Céline, inspired by his grandfather's famous 1978 PBS series, "The Cousteau Odyssey". Fabien has been working with local communities and children worldwide to help restore local water ecosystems & founded the Fabien Cousteau Ocean Learning Center ("OLC") in 2016 to fulfill his dream of creating a vehicle to make a positive change in the world.
Jonathan Granoff (Moderator), is an international lawyer, advocate, scholar, and award winning screenwriter who serves as President of the Global Security Institute, United Nations Representative of the Permanent Secretariat of the World Summit of Nobel Peace Laureates, and Ambassador for Peace, Security and Nuclear Disarmament of The Parliament of the World's Religions. He serves on numerous advisory and governing boards including the Jane Goodall Institute, Universal Sufi Council, World Wisdom Council, Parliamentarians for Nuclear Nonproliferation & Disarmament, working to bring the values of love, compassion, and justice into action. He is a Fellow in The World Academy of Arts and Science and was nominated for the Nobel Peace Prize in 2014. Blessed with having lived and studied with H.H. Bawa Muhaiyaddeen since his youth he is honored with the namesake Ahamed Muhaiyaddeen.
Lori Leyden (Trauma Specialist, Humanitarian), PhD, MBA, is an internationally known stress and trauma healing expert and uniquely qualified psychotherapist, author, workshop leader, inspirational speaker, and humanitarian. She is the author of "The Grace Process Guidebook: A practical guide for transcending your ego and engaging the wisdom of your heart." Inspired by the resilience of orphan genocide survivors she works with in Rwanda, Dr. Leyden founded the non-profit Create Global Healing and established Project LIGHT: Rwanda, the world's first international youth healing, heart-centered leadership, and entrepreneurship program. Project LIGHT is a new form of humanitarian aid nurturing our next generation of young people to heal, work, and lead us into a peaceful future.
Audrey Kitagawa heads the Light of Awareness International Spiritual Family, a nondenominational, ecumenical, spiritual community. She is the former Advisor to the Office of the Special Representative of the Secretary General for Children and Armed Conflict at the United Nations. She is currently a Special Advisor to the World Federation of United Nations Associations, the Chairperson of the NGO Committee on Spirituality, Values and Global Concerns, and a member of many other international organizations.
Greg Reitman (Author, Filmmaker, Public Speaker), is an American film director, producer, executive producer, writer, author, activist, and public speaker. Described by Movie Maker Magazine as "one of the top ten filmmakers producing content that impacts our world," he is the founder of Blue Water Entertainment, Inc., an independent production company focusing on environmentally conscious broad-based entertainment. Widely regarded as Hollywood's "Green Filmmaker" Greg produced the Sundance Audience Award-winning feature documentary FUEL. Prior to producing FUEL, Greg wrote, produced, and directed the feature documentary "Hollywood's Magical Island – Catalina. His latest feature documentary film, "ROOTED in PEACE" won Best Feature Documentary at New York Festivals, debut at the United Nations, and released theatrically through Landmark Theaters.
NIKOO: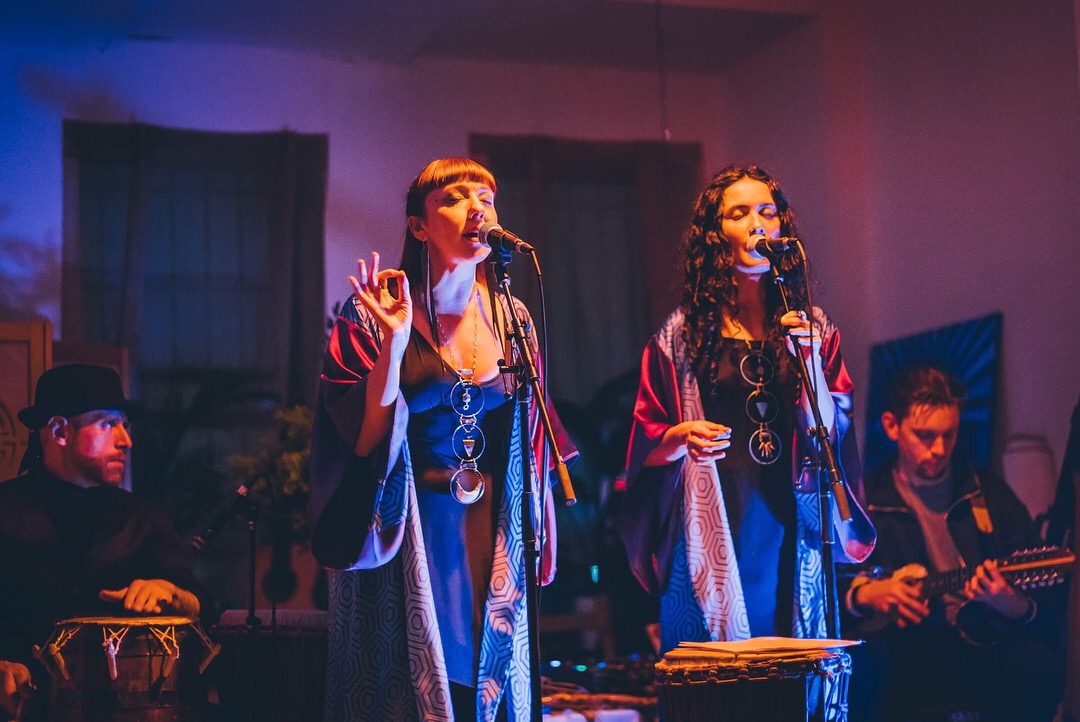 Two women, two cultures, two powerful medicinal traditions, Persian mysticism and South American healing folklore come to the life through he music and poetry of NIKOO. NIKOO features Haleh Liza and Natalia Clavier who's been a longtime member of Thievery Corporation. Both women are vocalists, composers, and poets and have toured extensively with various projects, playing venues and festivals such as Beacon Theater NYC, Lincoln Center, Kennedy Center, Lollaplooza, and Bonaroo. Within this project, their soulful voices and many years of experience merge to create a powerful sound in which they explore, share, and further the medicinal and musical powers of their respective roots. In Spanish, Persian, and English, their songs are an expression of reverence, soul, resilience, and their performances are propulsive, energized, ceremonial, and uplifting offerings.
• . • . •
The International Day of Peace, sometimes unofficially known as World Peace Day, is a United Nations-sanctioned holiday observed annually on 21 September. It is dedicated to world peace, and specifically the absence of war and violence, such as might be occasioned by a temporary ceasefire in a combat zone for humanitarian aid access. The day was first celebrated in 1982, and is kept by many nations, political groups, military groups, and people. In 2013 the day was dedicated by the Secretary-General of the United Nations to peace education, the key preventive means to reduce war sustainably.