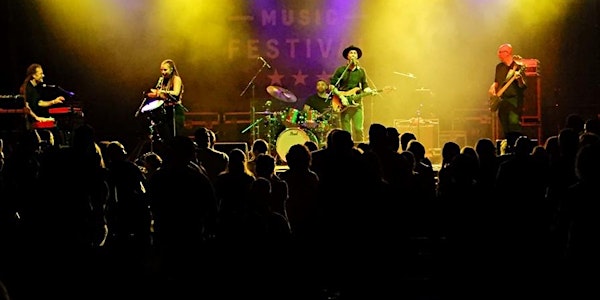 Root Shock with Brian Rigby
Event Information
Performers
Root Shock , Brian Rigby
The Blues Grinders
Location
The Stanhope House
45 Main St.
Stanhope, NJ 07874
Conscious, soulful, uplifting, even healing describes Root Shock's infectious sound and energy.
About this event
Root Shock
Conscious, soulful, uplifting, even healing—that's how many fans of Root Shock have described the band's infectious sound and energy. With a reputation like that, it's unsurprising that this group is indebted to reggae, a class of music forever married to love, humanity, social change, and an almost tangible sense of sunlight. But Root Shock didn't form on a beach. Instead, they came up in snowy Syracuse, New York in 2012, and since then, they've developed a voice that transcends genre.
Brian Rigby
Inspired by the working class writing styles of Billy Joel and Bruce Springsteen, along with the blazing blues-infused rock and roll guitar style of Kenny Wayne Shepherd, Brian's music sets itself apart from most singer/songwriter catalogues. He is backed on stage and in the studio by The Brian Rigby Band, some of the best musicians on the east coast. Friends and de facto family, no anonymous sidemen. A Brian Rigby Band show is a communal gathering celebrating hard work, friendship, love, sadness, despair, and the life we live together as neighbors through relatable, emotionally heavy, and fun Rock and Soul.
The Blues Grinders
The Blues Grinders is a high energy, blues and rock trio from Northwest New Jersey. The Blues Grinders is 3 buddies from Landing NJ who have been playing together for over 20 years. Thumping bass is supplied by Bob Nock, guitar master Mike Colgan and tasty drummer Mike Fasino. Bob Nock and Mike Colgan share vocal duties. The Blues Grinders live show will keep your head poppin all night long. You must experience the crisp, tight sound and seemingly endless vocal ranges of our little band.
$10 advance, $15 in cash at the gate
$5 food & beverage minimum charged in cash at the gate for all guests under the age of 21; Voucher redeemable in restaurant.
Performers
Root Shock , Brian Rigby
The Blues Grinders
Date and time
Location
The Stanhope House
45 Main St.
Stanhope, NJ 07874
Refund policy